'With India's bowling so poor, there will be extra pressure on the Indian batsmen to score more runs.'
'The Indian team, which nonchalantly scores 300/350 runs in ODIs at home, has problems making even 200/250 runs in Australia, notes Haresh Pandya.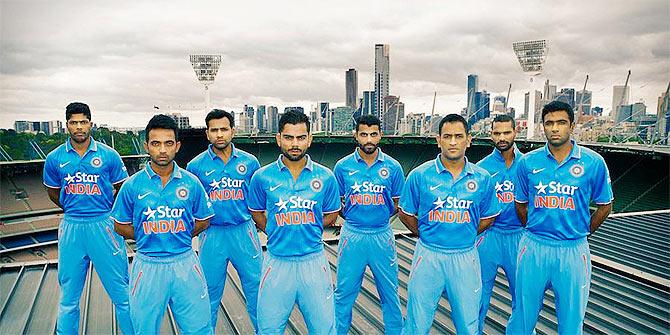 Image: A stiff challenge awaits Team India at the World Cup. Photograph: BCCI/Twitter
When Team India sheds its white flannels, it is said, and puts on the shining blue, it transforms itself into a cohesive unit, triumphing more often than not. This may have been true in the past. Not anymore.
Whether playing in white or blue, the Indian team, particularly when led by Mahendra Singh Dhoni, has become more accustomed to losing, especially on foreign pitches.
Winner of the 2011 World Cup, the Indian team arrived Down Under much earlier than its opponents. But neither in the four Tests nor in the triangular one-day series featuring Australia and England did Dhoni and Co win a solitary game.
The bowlers were blamed for the poor showing in the Tests, but the batsmen were consistently bad in the tri-series.
Virat Kohli, who plundered runs in the Test series, disappointed. India's last game, against England, was a do-or-die affair. Barring Ajinkya Rahane, the batsmen came a cropper.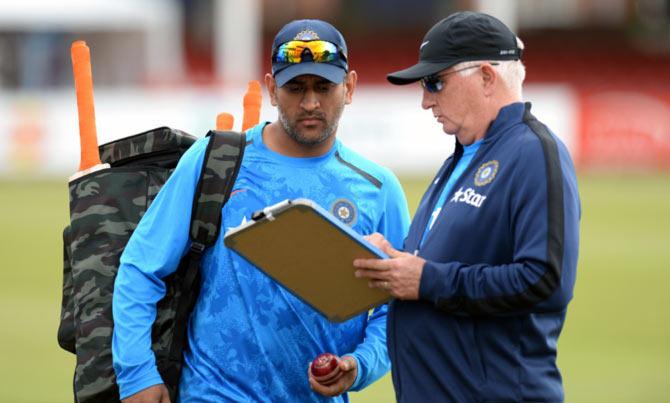 Image: Dhoni, left, and head coach Duncan Fletcher will have to produce a fresh plan if the team is to retain the World Cup. Photograph: Tony Marshall/Getty Images
Dhoni defended his team, putting forth the argument that they were 'tired of constantly playing two months' in Australia.
This is in sharp contrast to the Aussies who have been playing constantly for over two months and performing so well, individually and collectively.
This is the major difference in Team India's approach and attitude and truly formidable teams like Australia and South Africa.
Of course, even a lay cricket lover knows why Dhoni and Co never feel fatigued after playing in the crowded, marathon, IPL season.
Cricket-mad Indians hope, as has been their wont, that regardless of the recent lacklustre showing in the Tests and ODIs, the team will repeat the grand show of 2011.
But it is one thing to hope and quite another to face stark reality. A mood of despondency has engulfed the Indian dressing room. The Board of Control for Cricket in India has booked the jaded team into a luxury resort near Adelaide so that Dhoni and Co can 'rest and recuperate' before the showpiece event begins.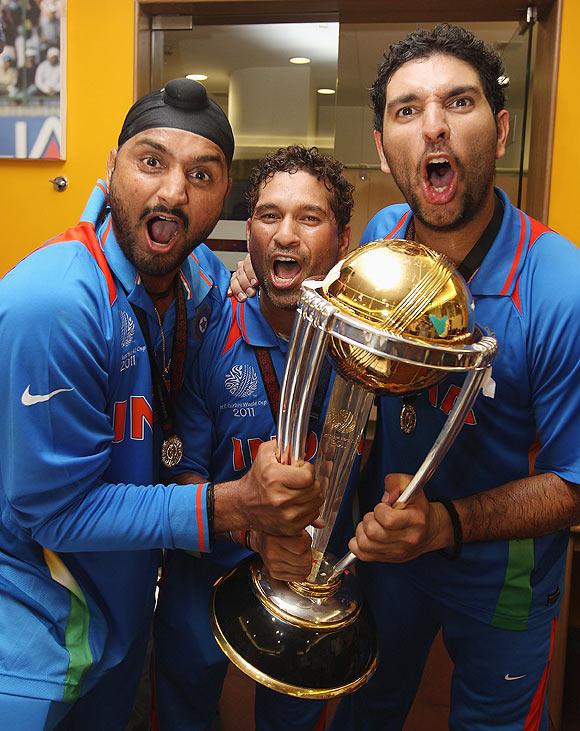 Image: Dhoni's 2011 team included Sachin Tendulkar, Harbhajan Singh and Yuvraj Singh. Photograph: Michael Steele/Getty Images
There is a vast difference between Dhoni's 2011 team and his 2015 squad. Four years ago, India had capable openers like Virender Sehwag and Gautam Gambhir, and competent middle-order batsmen in Sachin Tendulkar, Yuvraj Singh, Virat Kohli, Suresh Raina and Dhoni himself.
The pace bowling was spearheaded by the highly experienced Zaheer Khan, who was ably supported by the extremely talented Munaf Patel and S Sreesanth. Harbhajan Singh led the spin bowling, assisted by Yuvraj.
And despite the pressure of playing before enormously expectant home crowds, Dhoni's 2011 team was a well-knit unit.
The present side lacks the very spirit so vital in a team sport like cricket. At the outset of the Test series, there was reportedly a dressing room row between Kohli and Shikhar Dhawan. Those scars apparently still exist; Dhawan has not been his swashbuckling self at the crease.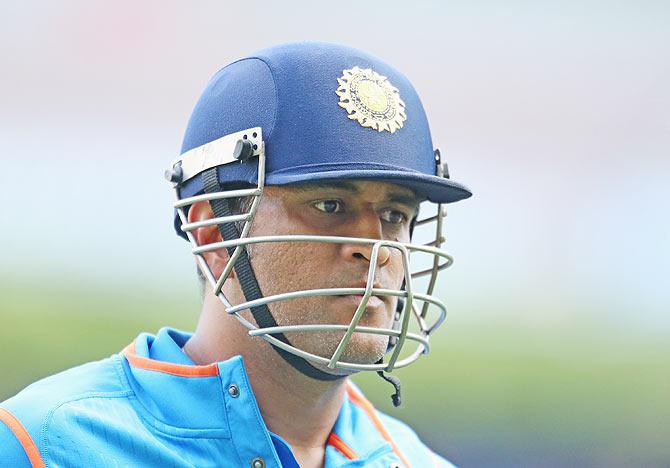 Image: A listless Captain Dhoni in the tri-series. Photograph: Scott Barbour/Getty Images
Dhoni retired from Test cricket in the middle of the series. Many observers, including this one, feel he deserted the Indian team. Whatever Dhoni's reasons may have been, his shocking action offered glimpses of the atmosphere prevailing in the Indian dressing room.
The same Dhoni has returned as captain of the one-day team, carrying a billion plus Indian aspirations in the World Cup. So far, he has failed to provide the famed Dhoni inspiration to his boys.
In the triangular series it often appeared as if Dhoni was captaining merely for the sake of captaining and most Indian players were playing for the sake of playing.
A hint of how difficult the road in the World Cup will be for the Indian cricketers has already been given by Mitchell Johnson, James Anderson and Stuart Broad.
These champion fast bowlers, bowling beautifully and effectively on Australia's lively and sporting wickets, reduced the Indian batsmen, including Kohli, almost to club class in the tri-series. Rohit Sharma scored a sparkling century in India's first game, but injury kept him out for the rest of the tournament.
The Indian batsmen are lucky they are in Pool B and hence don't have to face the Australian and English fast bowlers. But wait, Pakistan and South Africa are in the same Pool B, and have an array of relentless fast bowlers, including a certain Dale Steyn, widely considered the best fast bowler around.
Image: The unpredictable Dhawan. Photograph: Ryan Pierse/Getty Images
India does not have a dependable opening pair to face fast bowlers confidently and lay the foundation for a respectable -- if not a mammoth -- score.
For all his talent, Dhawan is inreasingly unpredictable. Fast bowlers have mastered the technique to dismiss the southpaw behind the stumps or into the slips. Rohit may not be that vulnerable outside the off-stump, but he is no less uncertain and unpredictable.
The occasions are rare when Rohit is on song and firing on all cylinders. One would not be surprised if India decides to open with Rahane throughout the World Cup.
There is no order in the middle order either. What is worrisome is Kohli's loss of sublime form. Of course, considering his prodigious talent, it can be said with a fair degree of certainty that it will not take him long to regain both his confidence and touch. The same can't be said about any other Indian batsman.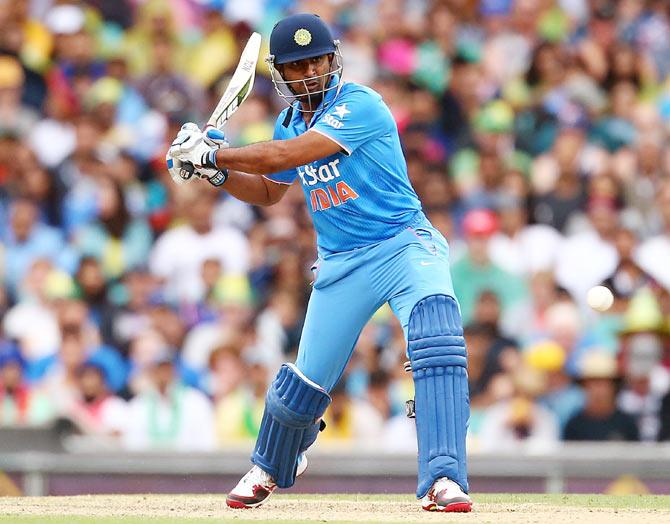 Image: Ambati Rayadu will have massive responsibility lodged on his young shoulders. Photograph: Mark Nolan/Getty Images
The selectors have already made a huge blunder by not picking Murali Vijay, who was consistently prolific throughout the Test series, for the World Cup. His game is tailor-made for limited-overs cricket.
Both in England and Australia, Vijay was the most confident of all the Indian batsmen, demonstrating near-perfect technique and temperament against fast and swing bowlers on the two difficult Test tours.
Ambati Rayudu, whose place should have gone to Vijay, has a lot of responsibility on his young shoulders. Though he appears brilliant when in his element, Rayudu is not different from Dhawan and Rohit when it comes to confidence and consistency.
Suresh Raina and Dhoni are regarded by many as India's ideal middle order pair in shorter versions of the game. But both men are experiencing a crisis of form and confidence.
The medium-pacers -- Ishant Sharma, Mohammed Shami, Umesh Yadav and Bhuvneshwar Kumar -- as well as the spinners Ravichandran Ashwin, Ravindra Jadeja and Axar Patel have been unimpressive on the Australian tour. Shami may have taken a few wickets more than the others, without being effective, but he has given plenty of runs.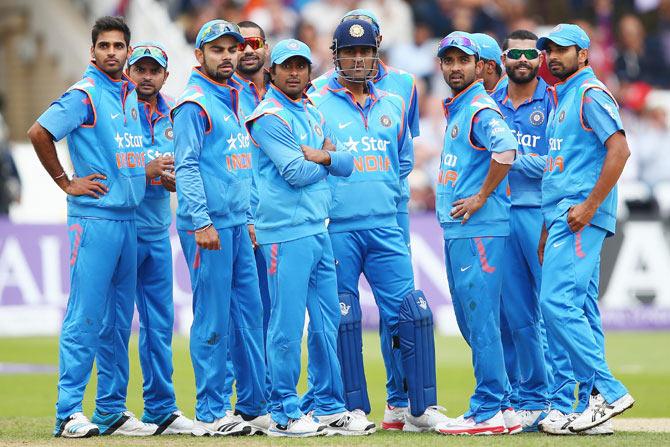 Image: Team India will need the prayers of a billion plus Indian cricket fans to have a semblance of a chance to retain the World Cup title. Photograph: Getty Images
Stuart Binny has raised some hopes, but you can't expect a big miracle on the basis of a couple of fairly good performances. Binny has been most impressive with the bat, whereas Jadeja and Patel have struggled for survival at the crease, let alone scoring runs.
With the Indian bowling so poor, there will be extra pressure on the batsmen to score more runs. The Indian team, which nonchalantly scores 300/350 runs in ODIs at home, has had problems making even 200/250 runs in Australia.