A selection of musings from around the cricket World Cup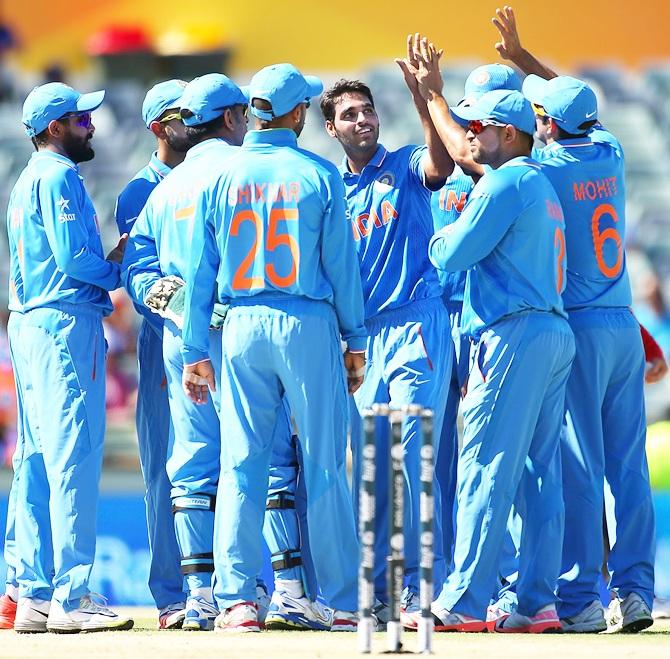 Bhuvneshwar Kumar of India celebrates with team mates. Photograph: Paul Kane/Getty Images
India have turned up for the World Cup: in their multitudes. In Perth, as in Adelaide and Melbourne, Indian crowds have given the Cup the sense of occasion, energy and importance that they had withheld from the Border-Gavaskar Trophy series.
- The World Cup, as never before on Rediff.com
- VOTE: Who will win the 2015 World Cup?
On Friday they hosted, and defeated, the West Indies. The WACA became the Wankhede, for a day; five thousand more came to see India than, on Wednesday, had come to see Australia.
Misbah-ul-Haq on life as Pakistan captain
"Wanted. Captain to lead international cricket team dogged by spot-fixing controversy. No matches can be played in our home country and you will eventually lose two of your leading bowlers over concerns about their actions.
"Post has had five incumbents in past four years, so do not expect job security."
Misbah-ul-Haq has not only survived in the role of Pakistan captain; he has been a success. His 15 Test wins are more than any other skipper has managed.
Glenn Maxwell's big show continues weekend of flamboyance in Sydney
Australia's World Cup selections are getting a finger-in-the-dyke look about them. No sooner had they addressed their batting worries than their bowling sprang a leak. As Sri Lanka staged a spirited if ultimately vain assault on Australia's 9/376 in Sydney, the hosts appeared to be a bowler, if not one or two fielders, on the light side.
As Kumar Sangakkara passed 14,000 one-day international runs and set off after 15,000, Sri Lanka gave the Australians a persistent anxious tremor. Could a team that battled to defend 376 win the World Cup? Perhaps this was to be expected from a team packed with all-rounders.
Nothing sums up England's out-dated World Cup methods more than watching the truly magical AB de Villiers going about his work
Just for a moment, when he gained a thin edge to an attempted pull off Pakistan' s Sohail Khan in Auckland, it was possible to believe that Abraham Benjamin de Villiers was human after all.
All other evidence suggests the South African known as AB is some kind of super power, a man so talented in so many sports that cricket was blessed when he decided to make taking one-day batting to another, exalted level his destiny.
Nothing sums up England's out-dated methods at this otherwise expansive World Cup than to watch the extraordinary De Villiers going about his work.
Ireland's John Mooney bats in customised helmet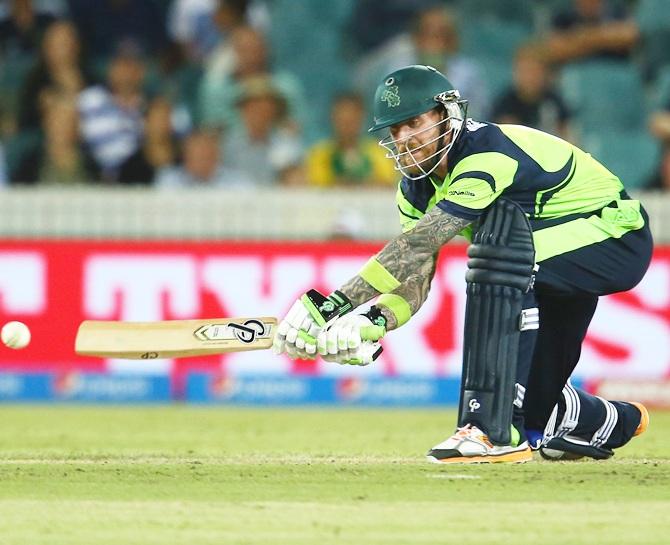 John Mooney of Ireland bats during the 2015 ICC Cricket World Cup match. Photograph: Mark Kolbe/Getty Images
Ireland's John Mooney says the self-designed helmet he is wearing at the World Cup can prevent batsmen from suffering a serious injury.
Australia batsman Phillip Hughes died after being struck on the back of the neck by a short delivery at the Sydney Cricket Ground in November.
Mooney's 'Gorget' extends a helmet's grille to protect that area.