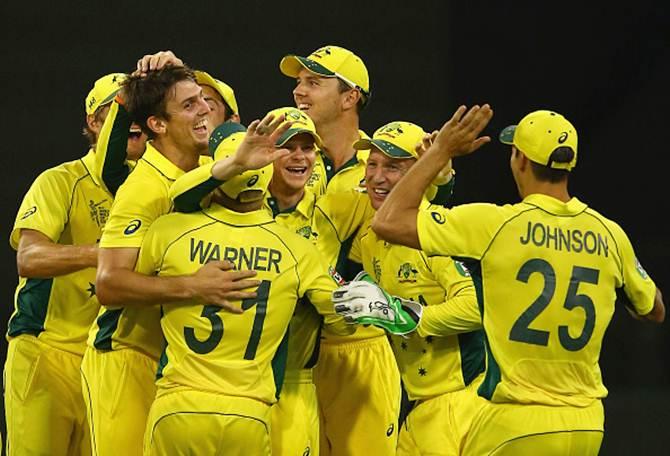 Australia's Mitchell Marsh of Australia celebrates with teammates after taking the wicket of Jos Buttler of England during the World Cup match at the Melbourne Cricket Ground. Photograph: Ryan Pierse/Getty Images
Former Australia captain Mark Taylor has picked his country and South Africa as the teams likely to face-off in the final of the World Cup.
His view is based on an initial assessment of the teams after the opening week of the tournament.
"Both Australia and South Africa have a lot of firepower in their bowling department. Then, the two sides also have a lot of depth in their batting. So that's the reason I would pick them as favourites," said Taylor.
The Cricket World Cup like never before, only on rediff.com
VOTE: Who will win the 2015 World Cup?
However, despite the breathtaking win over England, New Zealand does not rank very high on his favourites' list.
"New Zealand is good, but they do not have the batting depth like Australia and South Africa. A team like Australia has batsmen till number nine and they can turn the match around accordingly," added Taylor.
India is the other side that has caught Taylor's fancy.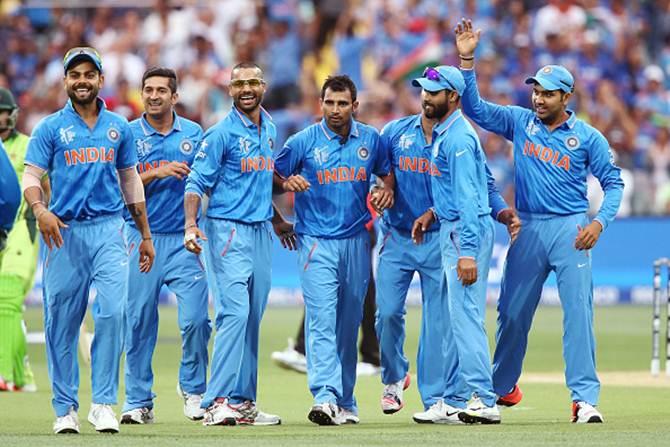 India pacer Mohammed Shami is congratulated by teammates after dismissing Younis Khan of Pakistan during the World Cup match at Adelaide Oval. Photograph: Morne de Klerk/Getty Images
India, he says, will go right till the semi-finals, but not beyond that.
"Virat Kohli batted well against Pakistan. He changed his style and adapted to the conditions. He batted sensibly. Dhoni was also good against Pakistan. He is a good limited-overs captain, but he runs out of ideas in Tests. He allows things to drift in the longer formats," opined Taylor.
Overall, he was happy that India beat Pakistan in their opening match, saying it sparked interest in the tournament.
"Before the tournament India was not playing well in the triangular series. They lacked energy. But after the opening win they look like they have got back the rhythm.
"We all know that when India does well in any world tournament the whole scenario around it improves. As a host, I am happy that India have picked up pace, because from now on things will get exciting for all the fans. You can already see a lot of enthusiasm around the tournament. India has brought energy into the tournament."
The performances of lesser sides, like Bangladesh and Zimbabwe, who extended South Africa in their opening match, has also impressed Taylor.
While his choices for teams to watch out for is pretty clear, he has many picks for players.
"Virat Kohli, Glenn Maxwell, Warner, Smith, Mitchell Johnson, (Mitchell) Starc, (Brendon) McCullum, (Suresh) Raina; it is a long list."
- Apostrophe Content and Entertainment
- ICC World Cup Merchandise 2015 available on Rediff Shopping