India skipper Mithali Raj is hopeful of her team using the home conditions to good effect in their opening women's World Cup match against the West Indies on Thursday.
"Some of their players are not keeping well and they still have to get acclimatised to the conditions that might help us, and also the kind form we are in; I am sure the girls will put up a good show," she said on Wednesday.
- ICC Women's World Cup schedule
"I honestly feel if you have a flat track, it could be anybody's game. There will be lot of runs, it's a batting track. Bowling needs to be tightened up and there should be disciplined bowling attack. The fielding aspect could be crucial.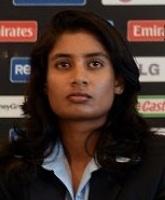 "The wicket will not change in either innings, but the fielding will play a crucial part. Last year, we toured West Indies, though we lost the one-dayers; they are a side who are developing every year. They have good players and hard hitters too," she added.
Asked about the West Indies' bowling attack, that features spinner Anisa Mohammed who claimed 7-14 in the final of the ICC Women's World Cup Qualifier in 2011 against Pakistan, Raj said, "Anisa has been consistent wicket-taker against India. She has always taken 2-3 wickets against India.
"I don't think it is going to be a challenge, because it goes down to how you have prepared yourself for the World Cup considering the bowlers you are going to face."
On the advantages of being hosts, Raj reiterated that the weather will be the only upperhand they get compared to the other teams.
"The only advantage that we would have (as host nation) is having better idea about the conditions. During the practise games, the wickets we saw were quite flat. It is very helpful to batsmen and the scores are also quite good like 250 and 300-plus.
"So, I think ICC has provided batting tracks, so that a lot of runs are scored in the tournament. The weather can be our only advantage. It is humid. Our players have got used to the conditions with the camps in Mumbai," she said.