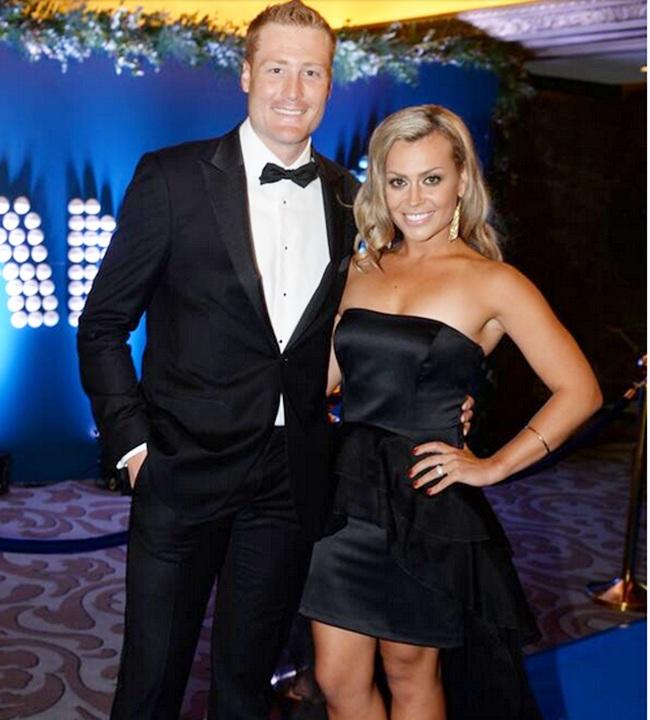 Martin Guptill and his wife, Laura McGoldrick. Photograph: Twitter
Besides the 90,000 plus fans lending their noisy support, most of the 22 players involved in the final of the World Cup 2015 will have support in the shape of their families and spouses.
New Zealand's opener Martin Guptill's wife, Laura McGoldrick, will not only shout from the stands, but will also be praising his hubby's efforts on the microphone. Laura McGoldrick is a TV and radio host, who wasn't shy in letting her emotions go during her husband's brilliant knock of 237 in the quarter-finals against the West Indies at Wellington last week.
Laura has also arrived in Melbourne alongwith hubby Guptill.
New Zealand's wicketkeeper-batsman Luke Ronchi's wife, Shaan, is also here with an entourage, while Daniel Vettori's family has come to give the left-armer a farwell from ODI cricket. Vettori received a special send-off at the Sharjah ground from his wife, children and parents who sat in the front row of the main stand when the New Zealander played his last Test in December last year.
His six-year-old son James will also be shouting for his father from the stands.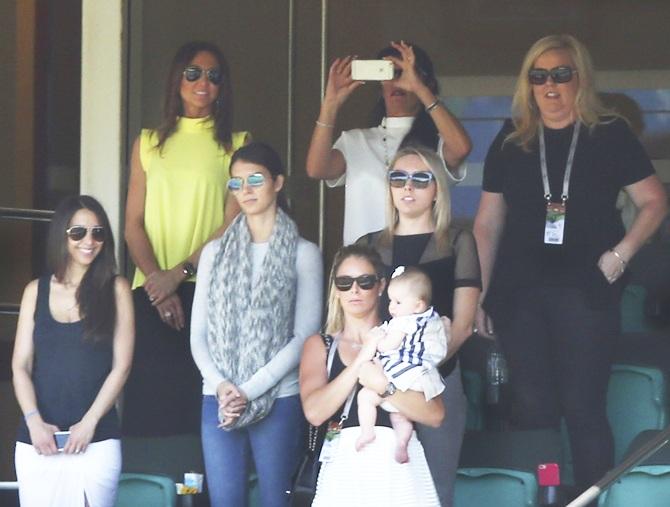 Kyly Clarke (Back Row left), wife of Michael Clarke of Australia, Dani Willis (middle row right), partner of Steve Smith of Australia, and Candice Falzon holding Ivy Warner (front right), fiance and daughter of David Warner of Australia look on. Photograph: Ryan Pierse/Getty Images
Australian all-rounder Shane Watson's wife, Lee Furlong, is also a TV presenter, but will not be on duty during the final.
Michael Clarke who announced his ODI retirement after the final will also have wife Kyly cheering for him. Clarke said he took the decision after consulting from his wife. "After the semi-final I went back home around 12 midnight...I took advice from Kyly on the retirement plans."
Apostrophe Content and Entertainment
Whatever happens, March 29 at MCG will be divine, says ailing Crowe
World Cup Blogs: My heart tells me it's NZ's turn to win but...