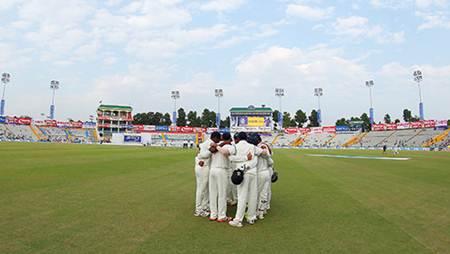 The International Cricket Council gave the thumbs up to facilities at the PCA Stadium in Chandigarh, which will host some matches in next year's ICC World Twenty20.
Led by the ICC's head of events, Chris Tetley, and Board of Control for Cricket in India Tournament Director M V Sridhar, a joint team which arrived in the city on Sunday night, visited the stadium in the morning, carried out an inspection and met with PCA officials.
"The ICC-BCCI joint team arrived at the venue in the morning to carry out the inspection. They went around the stadium. They appeared to be quite happy with the overall maintenance, facilities and security aspects.
"No shortcoming was pointed out. They were happy with overall set up. The only thing which they wanted was that there should be smooth changeover when Mohali hosts a double header of the event," venue manager and PCA's CEO, Brigadier G S Sandhu (retd) said.
Among the matches Mohali will host are Pakistan versus Australia on March 25 and the double-header on March 27 between West Indies and India (women) and India vs Australia (men).
Sandhu said the team held a detailed meeting with the security team, "which was headed by IGP, Kuldeep Singh. The security team reviewed everything, they were quite happy".
Before heading to Dharamsala, where they will inspect the venue on Tuesday morning, the joint team spent close to five hours at the Mohali venue.
PCA spokesman Sushil Kapoor said among those who were part of the joint team included security, broadcasting, merchandising and other officials.
"The team went around the ground and expressed satisfaction with the ground, preparations, dressing rooms, stands, upkeep and cleanliness of the stadium," Kapoor said.
Asked to comment about Monday's inspection, Sridhar said it was carried as per routine before mega events.
"Everyone was quite happy with the facilities here. There is no problem at all," Sridhar said.
Image: The PCA stadium in Mohali
Photograph: BCCI