'I pray that he keeps performing and taking the team forward'
'He was out of form before the tournament, and now to get back in form and score a hundred is a matter of great happiness'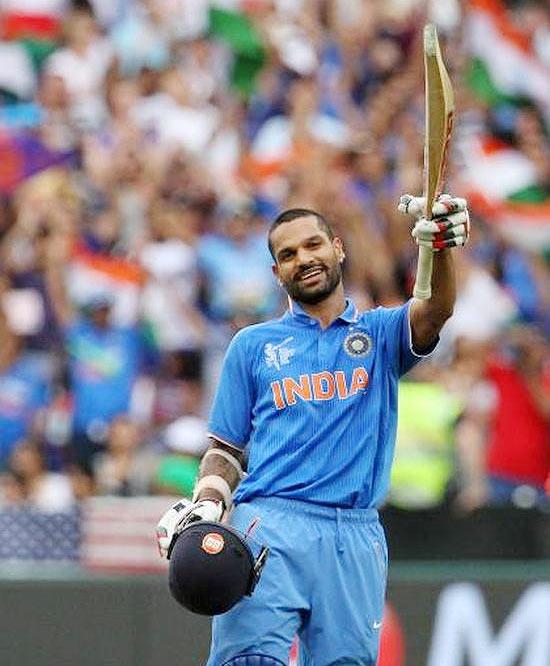 India's Shikhar Dhawan celebrates after scoring a century. Photograph: Vipin Pawar/Solaris Images
Shikhar Dhawan's father Mahendra Pal Dhawan on Sunday lauded his son's career-best knock of 137 against South Africa in the ongoing World Cup and expressed hope that the Men in Blue continue their winning streak.
- The Shikhar Dhawan interview: Opener keeps vow made to wife
- Don't Miss: Our complete World Cup coverage
"It is a very good thing. Last time he wasn't able to score a century, this time he did it; but the most important thing is that India has won. I pray that he keeps performing and taking the team forward," Mahendra Pal Dhawan told ANI.
"The way India has played against South Africa, we hope that it (the team) continues playing like this," he added.
India crushed South Africa by 130 runs in a Pool-B game in Melbourne on Sunday, to register their second consecutive victory of the tournament. This was also the first time India won against South Africa in the World Cup.
Opting to bat first, the Men in Blue posted 307 for 7. In reply, South Africa were bundled out for 177 in 40.2 overs. Shikhar Dhawan was adjudged man of the match.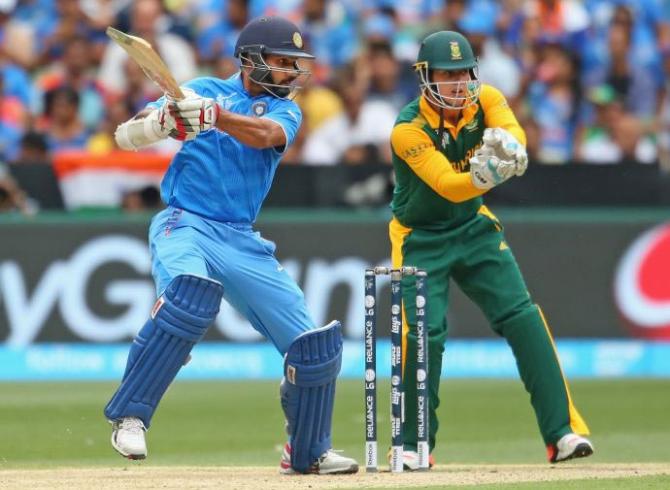 Shikhar Dhawan of India hits a boundary as wicketkeeper Quinton de Kock of South Africa looks on during the World Cup match. Photograph: Scott Barbour/Getty Images
Dhawan's coach, Madan Sharma also lauded the India cricketer for his 137 run haul against South Africa and hoped that his knock would help Dhoni's lads win the group match against the Proteas.
"It is good for him and for the team. He made 73 in the previous match and scored a hundred in this one. He was out of form before the tournament, and now to get back in form and score a hundred is a matter of great happiness. The most important thing is that his innings should lead to India's victory," Sharma told ANI.
Sharma also acknowledged the good performance by the Indian middle order which helped them set good targets in both the World Cup matches.
"Batting at the top of the order is crucial, we shouldn't lose wickets during the power play in first ten overs. Middle order is batting very well. In the last match Suresh Raina scored runs and today it was Rahane. If our batting keeps performing like this then we will be able post the scores in excess of three hundred more often," he said.
Dhawan began the World Cup on a positive note. Last Sunday, the Delhiite had scored an impressive 73 during India's opening World Cup match against arch rivals Pakistan, which the Men in Blue won by 76 runs.