West Indies batting great, Brian Lara, after being inducted into the ICC's Hall of Fame, dedicated the honour to his late father Bunty and siblings -- brother Winston and sister Agnes -- and said they all played important roles in his development as a cricketer.
-Kohli, Sangakkara sweep major ICC awards
"This person you see today before you accepting this Hall of Fame honour is someone he (Bunty) moulded. He ensured that I had everything I needed to succeed as a cricketer and in life, even in trying times," said Lara of his father, who died before his son played a Test.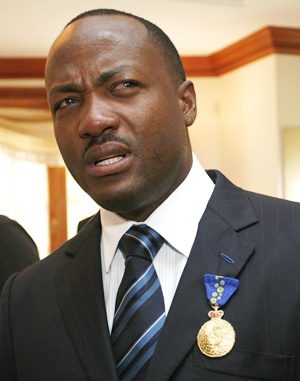 "He made a special effort to make sure everything was there. I had to work hard ... but I knew I had strong support. My biggest pain was that he did not see me play a Test match, but having the West Indies team in Trinidad at his funeral was a special tribute to the man who made sure I was given the tools to play this glorious game and make such a lasting contribution," said Lara while accepting the award last evening during the function at the Water's Edge Resort.
The 43-year-old Lara is a living legend in international cricket with 11,953 runs from 131 Tests and another 10,405 from 299 One-dayers.
Lara holds several records, including the one for the highest individual score in first-class cricket, with 501 not out for Warwickshire against Durham at Edgbaston in 1994, which is the only quintuple hundred in first-class cricket history.
Lara also holds the record for the highest individual score in a Test innings (400 not out against England at Antigua in 2004). He is the only batsman to have scored a hundred, a double century, a triple century, a quadruple century and a quintuple century.
"Tonight, I had my brother and my sister here with me. Agnes is the one who took me to my first coaching clinic when I was six, and Winston was a role model as a stylish right-handed batsman ... so to have them here is very special," he said.
Lara said he was happy to have spent 17 years in the West Indies and was able to contribute in a way worthy of this honour.
"As a boy, you never really thought of Hall of Fames, you never really thought of records. Growing up in the '70s my heroes were Clive Lloyd, Viv Richards and Roy Fredericks as a left-hand batsman. It is nice to Lara said his most memorable series was the four home Tests against Australia in 1999, when he scored 213 in Jamaica and 153 in Barbados to help West Indies draw the rubber 2-2.
"The 213 against Australia in Jamaica is definitely my best innings. Going into that match, landing in Jamaica and knowing that everything was on the line -- your captaincy, the series, respect and adoration by your fans. The mental strength I mustered during that week was something when I looked back, it was hard to measure anything against that.
"The performance was something I cherish and the fact that we won the match to level the series, after we were bowled out for 51 the week before in Trinidad, felt great. I thought the way I handled it was special. It is something I will never ever forget ... it's a day's cricket I will be talking about for a very long time.
"The 153 in Barbados the following week was rated higher by Wisden and the cricketing gurus but the double century in Jamaica was my best effort," he said.
With the inclusion of Lara in the list, West Indies now have 17 cricketers in the Hall of Fame.
Photograph: Andrea De Silva/Reuters