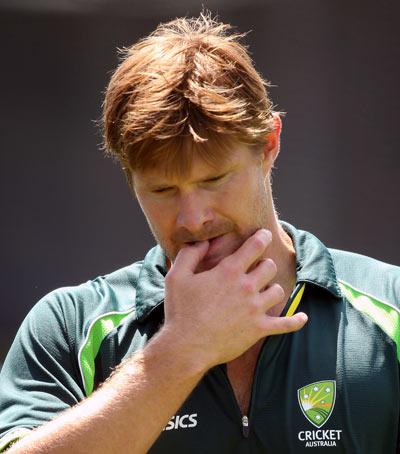 Shane Watson's spectacular decline as Australia's premier all-rounder has not yet robbed him of his self-belief and the 33-year-old is still hopeful of making a comeback in the World Cup team.

Watson paved way for James Faulkner in Wednesday's 275-run romp against Afghanistan. He watched form the sidelines as David Warner threatened to erase his Australian ODI record of 185 not out before falling seven runs short.
- Should BCCI censure Virat Kohli for absuing journalist?
- VOTE: Who will win the 2015 World Cup?
- Don't Miss! The Rediff Cricket Show
- The World Cup, as never before on Rediff.com

By then, Warner and Steve Smith, who stroked 97 at Watson's number three position, had bettered the Queenslander's 252-run stand with Ricky Ponting that stood as the highest Australian ODI partnership for any wicket.

Faulkner and Mitchell Marsh have overtaken him in the all-rounders' pecking order and Watson, without an ODI century since his ninth in October 2013, knows whom to blame.

"I know I haven't scored enough runs, so I've only got myself to blame. That's the way it goes," he told reporters before flying to Sydney where Australia face Sri Lanka on Sunday.

"I believe in myself and my own abilities. If an opportunity comes along, I'll be ready to go."

Only an injury to Faulkner or Marsh could seemingly force Watson's return to the playing eleven and if that happens, the all-rounder said he would give his best.

"There are things I've made adjustments on even before I got dropped to try to improve and give myself a better chance to score runs and perform.

"I'm always trying to get better and learn, so that's all I can do."

Former Test bowler Stuart Clark is among those who believe Watson's international career is in serious jeopardy.

"The reality is, what do you do with Shane Watson now? Can you bring him back into the team?" Clark told Australian host broadcaster Fox Sports.

"Because the other argument is, 'Why are we bringing back a 33-year-old?'

"I don't want to say it's the end for Shane Watson, but it's going to be very difficult, and he's going to have to continuously get runs in first-class cricket to work his way back in."
Photograph: Paul Kane/Getty Images