'I have always believed I belong to be playing at the highest level.'
'I have been the top scorer in the Ranji Trophy charts, top scorer in the IPL charts, top scorer in the domestic one-day charts twice in the last three years.'
In a freewheeling conversation with Harish Kotian/Rediff.com, run-machine Robin Uthappa reveals the secret of his resurgence.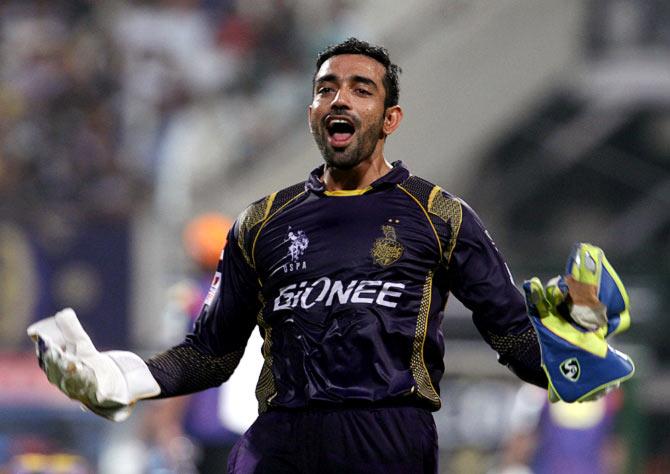 Kolkata Knight Riders wicket-keeper Robin Uthappa celebrates a wicket during IPL 8. Photograph: BCCI
Robin Uthappa got off to a smashing start in international cricket, blasting a match-winning 86 against England at Indore on debut in April 2006.
Nine years and 43 One-Day Internationals later he has only 890 runs, at an average of 26, to show after the early promise.
A regular member of the ODI squad in 2007-2008, he was out in the cold for nearly six years before making a comeback last year, for the Bangladesh tour.
He played three games against Bangladesh, then two against Sri Lanka, and got the axe again.
Last week, his career won a fresh lease of life when the selectors named him in India's squad for the Zimbabwe tour this month.
Considering the runs he has scored in domestic cricket in the last couple of years, including 912 in last year's Ranji Trophy -- the highest aggregate in the tournament -- his selection was certainly deserving.
Strong performances as the wicketkeeper and opening batsman for the Kolkata Knight Riders in the Indian Premier League also played a role in his re-emergence.
How much does it mean to you to make a comeback to the Indian team?
It means a lot. It's been all that I have been working for the last two, three years. The eventual goal is slightly different, but this is definitely the start. This is definitely where I saw myself starting off.
In the last couple of years I have always got one or two games in the middle of a series or towards the end of one, but I am very glad and grateful that I have got a whole series to play with this time around and I am hoping to make the most of it.
I am going there with all my positive energy and looking to win matches for our country.

Does it matter that you will be playing against a weak team like Zimbabwe? Or do you look at it as a chance to prove your potential at the highest level?
Well, absolutely! I have always believed I belong to be playing at the highest level. I am looking at this as an opportunity to consolidate my spot in the side. This is a great opportunity and making the most of it is my biggest priority right now.

You have been working on your game even before the team was selected for Zimbabwe, and with your coach, Pravin Amre, in Mumbai for the last couple of weeks. What did you focus on?
I did not have a break in the last couple of years because there was continuous cricket. I got a break this year after the IPL because we did not make it to the play-offs stage.
I got a few weeks' break and when the tour got announced I felt it would be a good thing to start preparing to make the cut. I was a little disappointed that I did not make the cut for Bangladesh because I was hoping that my performances in the domestic circuit would have got me the nod for that tournament.
Nonetheless, when the tour was announced, I told myself that I want to get ready for it. I am very happy and grateful that I have made it to the side and my performances have been noticed.

You have never played against Zimbabwe. How are you preparing for the tour? Have you been studying their bowlers or watching videos of their recent matches?
I will definitely have a look at it now. I have different challenges lying ahead. I am generally an opening batsman and that's generally my forte; but having said that, I think on this tour I will be batting in the middle order.
I don't necessarily know, so I need to keep an open mind as to how I am going to go about that -- preparing and looking at batting in the middle order, and wicket-keeping.

I look at wicket-keeping as a great opportunity and it is something I have been really enjoying in the last couple of years.
In the last season, I kept wickets the whole season in domestic cricket as well. It is something that I have begun to enjoy and improve upon. I am working hard as far as the skills as concerned.
I am looking at these opportunities and I am really focussing on myself and not the opponents. I am focussing on my strengths, and on what I can do to make the most of the opportunities.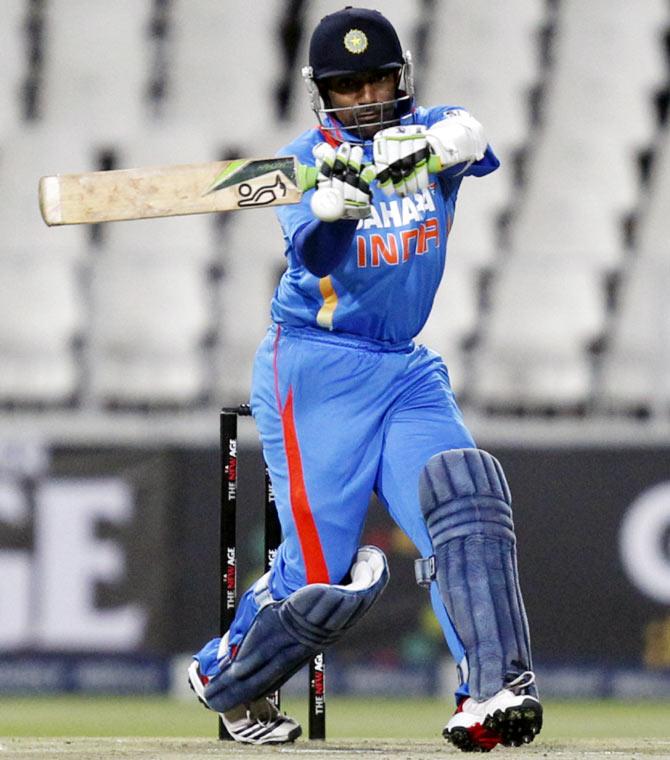 Robin Uthappa hits out during the one-off Twenty20 international against South Africa in Johannesburg, March 30, 2012. Photograph: Siphiwe Sibeko/Reuters
You were the highest run-scorer in the Ranji Trophy this season with 912 runs from 11 matches, followed by 364 runs in the Indian Premier League. So you will definitely take a lot of confidence into the season ahead, especially in the Zimbabwe series.
I have been pretty consistent in the last two, three seasons. I have been the top scorer in the Ranji Trophy charts, top scorer in the IPL charts, top scorer in the domestic One-day charts twice in the last three years. I have been doing pretty well, been pretty consistent.
Consistency is something I have been working on, so I am happy with my form in that sense.
I have pretty much been striking the ball well at all times, but consistency was something I was always looking to work towards and I am glad that it has come up as well.

Overall, I am looking to make sure that I capitalise on this opportunity that I have been given.

You seem to be enjoying playing for KKR. You have not only grown as a wicket-keeper, but have also been consistent with the bat in the last couple of years.
I completely enjoy the responsibility of opening the batting and 'keeping and it is something that I believe I can do well and I have been working hard on it.
I am constantly looking to improve upon myself in both these aspects as far as the skills are concerned and get better and fitter. I have enjoyed the challenges and taken them head on and it is something I want to do on this Zimbabwe tour.

In your last ODI, against Sri Lanka at Ranchi in November 2014, you kept wickets and scored 19 runs. Does being a wicket-keeper-batsman give you an extra edge in selection over just being a specialist batsman?
I am pretty flexible in that sense. I bring a lot of variety to any team I play for. I keep wickets, I field pretty well and I can bat up and down the order. I think I bring about a certain kind of advantage if I am utilised in the right manner.
It is something I have actually worked on because I think I have been blessed with that versatility and not to take it lightly.
It is not something that everyone can do and I have done with a decent amount of success. That is something I want to improve on.

So when it comes to 'keeping and batting it definitely helps in that sense to be an all-rounder of a different sort in the team.

With Mahendra Singh Dhoni having retired from Tests, are you eyeing a possible place in the Test side as wicket-keeper-batsman?

Oh yes, most definitely! I would be dishonest if I said I don't give myself a chance there. Having said that, I have stacked up good performances and I am hoping I will be considered in the longer format as well because that's the bigger dream -- to play Tests for India and win Tests for our country.
Robin Uthappa in action for the Kolkata Knight Riders. Photograph: BCCI
One of your other dreams must also be to play the 50-overs World Cup. You made your debut in 2006 and since then have seen three World Cups pass by.

Definitely. I want to consolidate my spot in the side. There are times when you sit back and watch ODI cricket at home and you wonder what you must do to justify a spot there. I want to consolidate and solidify my spot in the side so that I become a permanent fixture in the 15 and then in the 11 as well.

Karnataka has dominated the domestic circuit for the last two years, winning every possible title. Now you have three Karnataka players in India's team for the Zimbabwe tour, while four have been selected for India 'A'. What is the secret of the team's consistent showing across all formats in the last two seasons?

I don't think it has been any different from any other successful team. I think we really enjoy each other's success as a side.
As individuals, we enjoy each other's success, as individuals we work as a team, we know that we need to collectively work towards one goal, we don't give up in any situation, at any point of time.
We make sure that we keep believing in ourselves; even if we had a bad session, we keep believing that the next session will be better. If we have a bad 15 overs in one-day cricket we keep believing that in the next 15 overs we can pull it through and we pull it back.

I think we stick very close together as a unit and that's been one of our biggest secrets. We work really hard as a team; our work ethics as individuals within the group are extremely strong, we help each other a lot.
So there are a lot of positive factors that have made us successful. It has been an absolute honour to be a senior member in the side. To have won six trophies in two years has been very satisfying.
I don't think any team in history has won the Ranji Trophy, Vijay Hazare Trophy and the Irani Trophy back-to-back. It is a very difficult feat to be able to repeat.
As soon as we won it the first year we said they are always gonna say that this was a fluke. We used that as a motivation to repeat it the following year. We are so stoked that we have done that.
I am so happy for the boys who have been picked. Seven of us in the India and India 'A' sides. I honestly believe we deserve that and it has been a long time coming.
We always believe that domestic performances should be looked at and we are so glad that we were justified with positions in both sides.