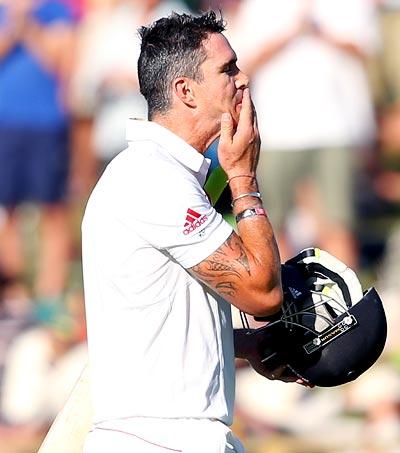 Kevin Pietersen felt like a "clown" after getting out in the first innings of the second Test but maintained on Tuesday he has been in prime form during England's heavy defeats in the opening three Ashes matches.

The flamboyant right-handed batsman has averaged 27.50 in the three games, way below his career test average of 47-plus, and been criticised for the manner of his dismissals.

Pietersen, though, scotched the idea that he was thinking of following spinner Graeme Swann into early retirement.

"I'm 33 years of age," he told reporters ahead of the fourth Test against Australia that starts on Thursday. "I'm batting as well as I've ever batted.

"I'll retire when I can't get up to play for England but I'm as good as gold at the moment. I felt like a clown in Adelaide when I hit that ball to mid-wicket off Peter Siddle.

"I just didn't feel good at the crease at all. Some days you have them," said Pietersen.

"Every other time I've batted on this trip, I've felt really, really good. I've got myself 'in' every time I've batted and a couple of times I've got out and a couple of other times fortune didn't favour the brave."

Pietersen flicked Siddle straight to George Bailey at short mid-wicket in the second Test in Adelaide in an attempt to dominate the seam bowler after England had lost two early wickets.

NO ADJUSTMENTS

But the South Africa-born cricketer said he feels no need to make adjustments to his approach in the future.

"It's just a case of making sure I keep doing what I do because it's proved successful," added Pietersen.

"If the situation dictates a certain way that I play, I've proved over the last however many years that I'll play to the situation of the game.

"I haven't got 100 in this series. Who knows? I might get one on Thursday and we might be sitting here all nice and happy."

England are determined to salvage some lost pride in the fourth Test but Australia will have no lack of motivation during the two remaining matches, according to wicketkeeper-batsman Brad Haddin.

"I've been on the end of a few hidings from England so, from my point of view, it's not that hard at all," said Haddin.

"We've a long way to go as a team and there are a few things we need to tick off on the way.

"I've been on the wrong side of a number of Ashes campaigns. The feeling in Perth, finally to win one, was amazing," Haddin said of the third-Test victory.

Australia's next aim is to top the world rankings, he added.

"We want to challenge ourselves to be the best cricketers we can be as a group and we hope that end result is to be number one in the world," explained Haddin.
Image: Kevin Pietersen
Photograph: Quinn Rooney/Getty Images