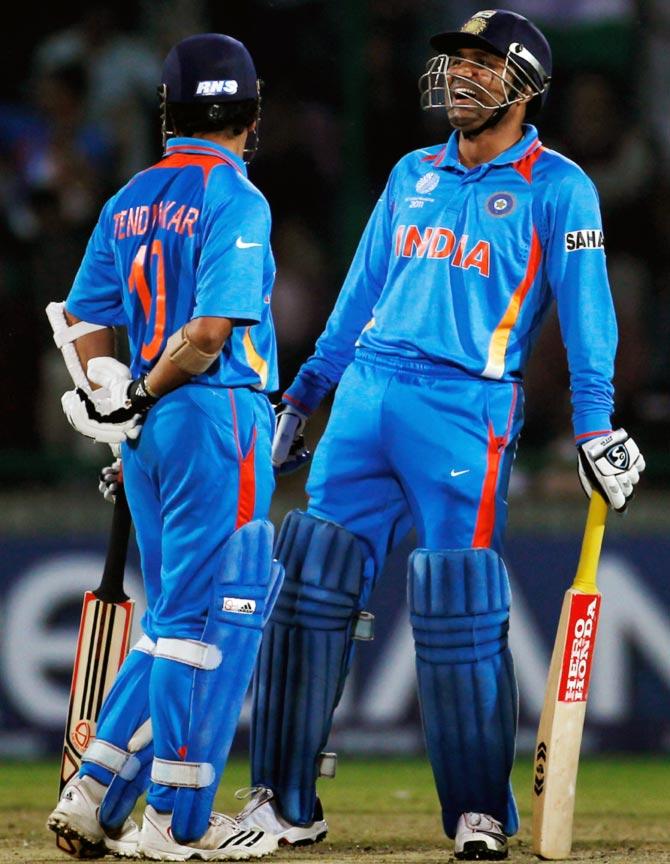 IMAGE: Virender Sehwag (right) with Sachin Tendulkar during the 2011 World Cup. Photograph: Daniel Berehulak/Getty Images.
Former India cricketer Virender Sehwag is surely having a ball on social media.
His tweets and comments on other social networking sites have been widely followed and liked by fans from the country.
On Tuesday, Sehwag gave a witty reply to a tweet of none other than his former opening partner and batting idol Sachin Tendulkar.
It all started when Tendulkar on Twitter, hailed India's win over New Zealand in the second Test in Kolkata which helped Virat Kohli & Co reclaim number one position in the ICC Test ranking.
"A spectacular victory by Team INDIA & many congratulations on regaining the no 1 position in the world test cricket!!" tweeted Tendulkar,
Sehwag reacted to the comment, in his typical witty way.
"Oh God ji, kabhi kabhi Commentators ko bhi encourage kar diya kijiye. Thoda Motivation mil jaayega," Sehwag wrote.
However, Tendulkar ensured that Sehwag's wish was granted and he too joined in the fun.
"Jiyo mere Lala" and "Tathaaaastuuuuu," posted Tendulkar.