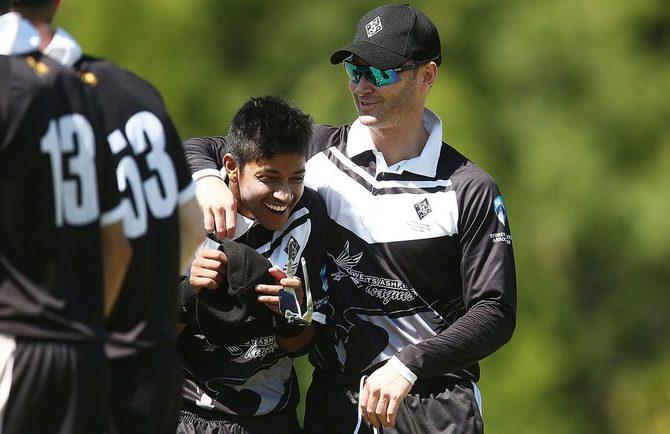 IMAGE: Sandeep Lamichhane celebrates a wicket with Michael Clarke. Photograph: Cricket Australia.
One of the brightest talents to emerge from the 2016 Under-19 Cricket World Cup. 16-year old leg-spinner from Nepal, Sandeep Lamichhane has caught the eye of former Australian captain Michael Clarke.
After watching him play in Hong Kong during a T20 tournament in May, Clarke took an initiative to take the young spinner to Australia and got him a contract with the Sydney Club.
Lamichhane, who landed in Australia on Monday, has impressed in his Sydney Premier Cricket debut.
The youngster, who turned 16 last week now wants to become the first Nepalese cricketer to play in the Big Bash League.
"My dream is to play Big Bash," Lamichhane told Cricket Australia.
"You can see it's like oxygen to me, because without cricket I can't live," Lamichhane said.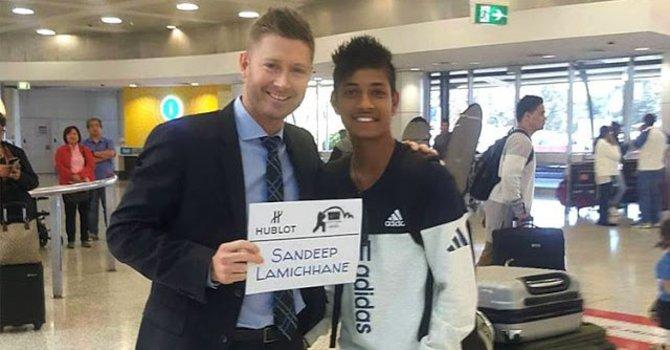 IMAGE: Michael Clarke receives Sandeep Lamichhane at the Sydney Airport on Monday. Photograph: Twitter.
While mentor Clarke dismissed the notion of Lamichhane being the 'Nepalese Shane Warne' he said it was more his passion than his prowess that caught his eye.
"Sandeep has a lot of talent, there's no doubt about it, but I think he offers a hell of a lot more than that, and I think that's why I've done whatever I could to try and get him to Sydney," Clarke said.
"He's a lovely young man. He's extremely respectful of his fans and the people that support him.
"He's very close to his family and I think he fits in perfectly at this great club at Western Suburbs.
"I think this was a little glimpse of what's to come. I don't want to put any pressure on him (but) he loves the game as much as anyone I've seen and that's what I think is important.
"Let him play, let him enjoy his cricket. He's around good people here at Western Suburbs. The future will take care of itself."