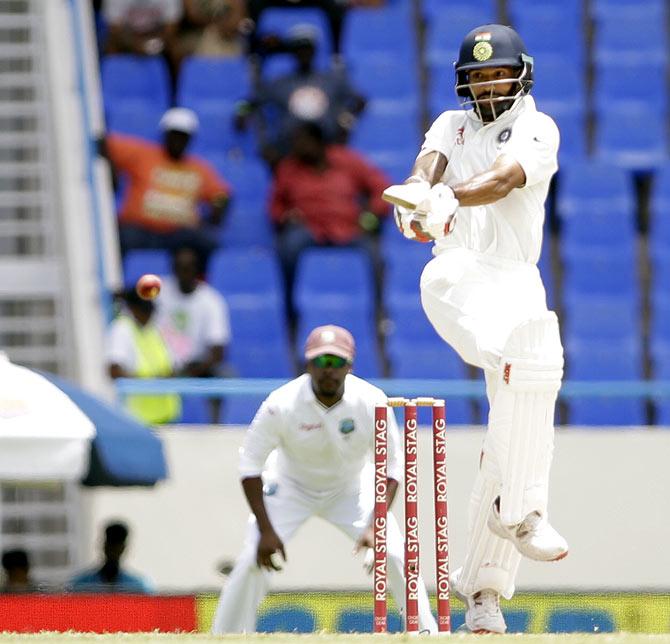 IMAGE: Shikhar Dhawan plays the pull shot on Day 1 of the first Test against West Indies in Antigua, on Thursday. Photograph: WICB Media Photo/Johnny Jno Baptiste
Shikhar Dhawan has always had the uncanny knack of producing goods when the chips are down which he attributes to his 'big heart' and the 'backing' he has got from skipper Virat Kohli and coach Anil Kumble.
- Scorecard

Dhawan scored a polished 84, putting on 105 runs for the opening wicket with captain Virat Kohli (143 not out) to put India in control as they posted 302 for four on Day 1 of the first Test against the West Indies in Antigua, on Thursday.

The innings came as a big relief for the left-hander, who is certainly feeling a bit less pressure after there were unconfirmed reports ahead of the match that K L Rahul, with back-to-back half-centuries in practice games, might have replaced him as the opener.

"I feel it is important for any player if the captain and the coach are backing you and it gives a lot of confidence. That's what matters and you also need to have self-belief that you can do that and it is a mixture of everything," Dhawan said after the first day's play.

"Opening is the toughest job and you need a big heart for it, when facing the new ball on a new (fresh) wicket. Bowlers also bowl with full energy and as opener your technique should also be good because you have to leave a lot of balls and you need patience as well," said the left-hander.

"The middle order needs it too but a new ball has its own challenge. (Murali) Vijay got a good ball and it was a very quick ball. I was luckier in that sense as (Shannon) Gabriel was bowling really well," he added.

However, the Delhi left-hander was a touch disappointed that he couldn't get to a coveted three-figure mark as he was trapped leg-before by leg-spinner Devendra Bishoo.

"I felt disappointed that I got out especially when I was set and scoring runs. I had spent enough time out there in the middle and came so close to scoring a hundred," he lamented.

"At the same time, I am happy that I started on a good note and would like to carry on my good performances in coming matches. I want to use the form I am in."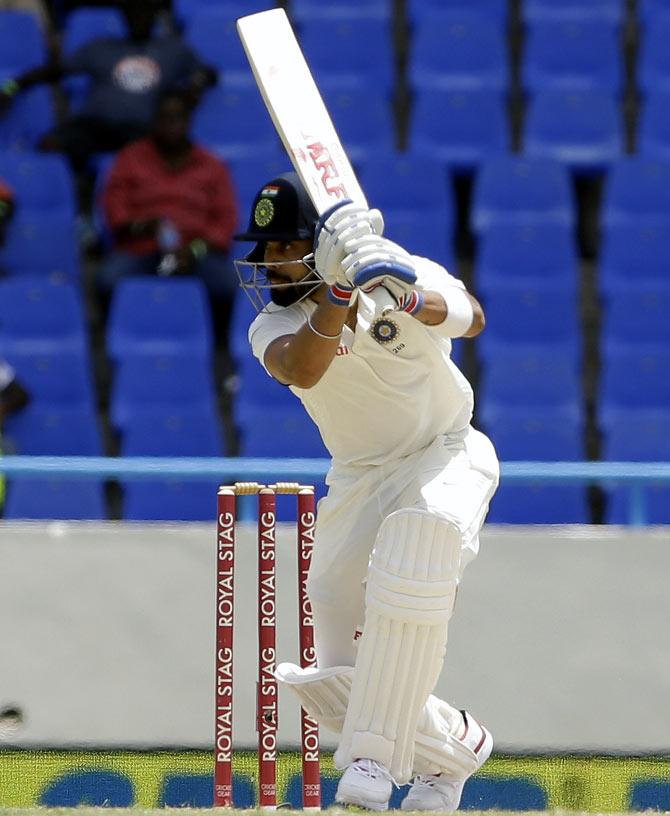 IMAGE: India captain Virat Kohli hits a boundary on Day 1 of the first Test against West Indies in Antigua, on Thursday. Photograph: WICB Media Photo/Johnny Jno Baptiste
Dhawan did well to survive the first session when pacer Shannon Gabriel was extracting a lot of bounce from the strip. Along with Cheteshwar Pujara, the southpaw saw off the session adding 60 runs.

"I feel that in the first session the wicket was fresh and the bowling was very good. So I was respecting the good balls and knew that I cannot afford to take a chance because there was extra bounce on the wicket. So I was playing close to my body and was not in a hurry and relaxed at the crease. It helped me later in the innings in both my partnerships with Pujara and Virat," Dhawan explained.

Dhawan along with Kohli boosted India in the post-lunch session after a slow start as he put up 105 runs for the fourth wicket with Kohli. The duo looked very comfortable at the crease and scored runs at a brisk pace with the West Indies bowlers looking bereft of ideas.

"He (Kohli) played a tremendous knock and continued scoring after his hundred. Hopefully he scores big runs and gets a double hundred. It feels good to bat with him and we were rotating the strike and scoring runs at a good pace. I feel that made a difference because we made the partnership very quickly. That is a good thing and it is always a pleasure to watch Virat, the way he times the ball," said Dhawan.

Comparing the two partnerships, he said,"My partnership with Pujara was also important because the ball was new at that time and it was important to leave the balls outside the off-stump at that time. The middle-order got benefit of that because the ball was older and my partnership with Virat benefitted from that.

"We scored at good pace and it impacted the game. Virat has been batting really well which is not new."

India did lose Dhawan and Ajinkya Rahane at important junctures, but Ravichandran Ashwin was promoted up the order ahead of Wriddhiman Saha and he played his role to perfection. He was unbeaten on 22 at stumps having already added 66 runs for the fifth wicket with Kohli.

Having started off well on Day 1, the visitors will look to bat long and deep into the second day to get a firm footing in this Test, but a lot of that will depend on how Kohli fares.

"We are in a good position especially because we are playing with only five batsmen. So we will want to bat as long as possible tomorrow and that will also tire them out. Good thing is that we have Virat well set and batting. Maybe he will score a double ton, or even a triple century," Dhawan signed off.