Crammed FTP left no time for India to prepare for Tests, says Rai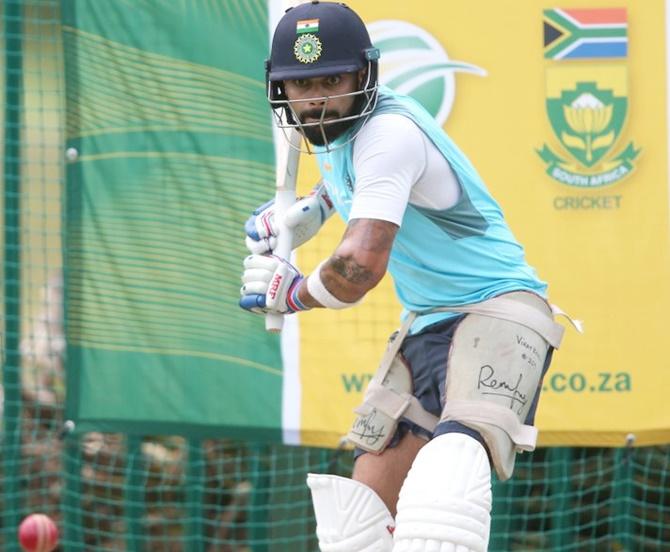 IMAGE: India captain Virat Kohli during nets. Photograph: BCCI/Twitter
A crammed calender left the Indian cricketers with not enough time to prepare for the ongoing Test series against South Africa, feels Board of Control for Cricket in India Committee of Administrators (COA) chief Vinod Rai.
In a freewheeling chat, Rai lamented that lack of match practice affected Virat Kohli and Co's preparation for the three-Test series.
"We probably would have performed better if we had more match practice before we went there. We could not help it because this FTP had drawn much earlier and could not make changes in it," Rai said.
"The number of days that the cricketers have been on the ground and travelling and playing in 2017 calendar was unbelievable. The fatigue factor is back-breaking. You're playing because somebody has to generate revenue. It may be a BCCI or state association. I think it's very unfair.
"2017 was fairly crowded calendar. Players had to play a large number of matches. That fatigue factor health and injury factors are taken care of (in the new FTP). Now we have ensured that match programme is not so crowded and the players get enough time to prepare."
India will play a one-off Test against Afghanistan ahead of the England series in July but Rai said it would not rob them off a good preparation.
"It's one Test. The FTP has been redone. We are not in a position to tamper the previous FTP, that's fixed. We are not changing. Rest we have redesigned the entire FTP," he said.
"It's been accepted at the AGM and a balanced FTP now. There will be enough practice time. They will get time before and after IPL."
India lost the three-Test series after losing the opening two Tests by 72 runs and 135 runs respectively.
Rai, however, said that win and loss are part and parcel of a sport and one must take them positively.
"The series loss was not disappointing," Rai said.
"How can you expect that you will continue winning all the time. This is a question of winning and losing both. We were up against a tough opposition and we put up a good fight but (ended up losing)."
"There's a review of every series. The manager submits the report and we review," he said.
The implementation of Lodha Committee's recommendation is yet to be done by the BCCI but Rai exuded confidence saying it is happening slowly.
"Nobody is obstructing. 11 associations have already agreed to amend their Constitution, so it's happening slowly. We took charge only 11 months back," he pointed out."
Famous cricket historian Ramchandra Guha, who was part of the COA, had quit after writing a letter to Rai, while Vikram Limaye too left after Security and Exchange Board of India appointed him as the CEO and MD of the National Stock Exchange.
Their ouster made the COA a two-member committee with former woman cricketer Diana Edulji being the other member apart from Rai.
Rai said Guha was a great asset to his team with a great knowledge of the sport.
"We were extremely disappointed, as Guha had an excellent knowledge of cricket. Guha remembers cricket, cricketers and the clubs in the back of his hands. He was a great asset but we must respect his conviction."
Hailing Edulji, he said, "She's doing an excellent job, providing us invaluable inputs because she's played the game and she understands it."
Rai also played down the COA's 'differences' with the BCCI officials.
"There will be differences between two groups of people but that's not something very big. There will be differences between us the administrators, the players. It's nothing major but we take decision sitting together."