Virat's flexible approach and pursuit of excellence set him apart, says Bangar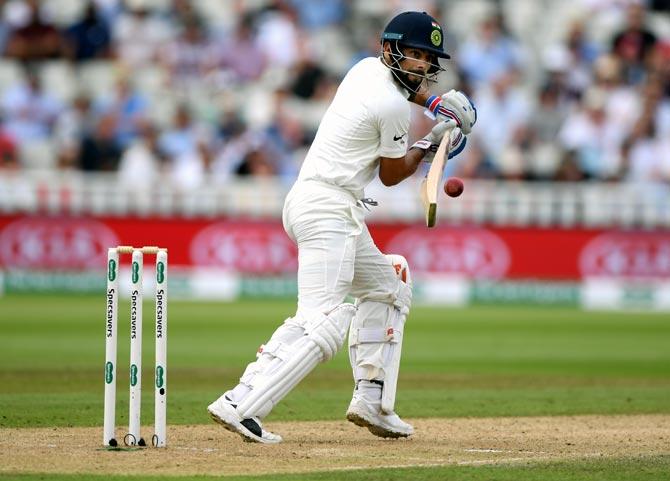 Virat Kohli's flexible approach to batting and relentless pursuit of excellence enabled the Indian captain to script a spectacular turnaround and score his maiden hundred on English soil, said assistant coach Sanjay Bangar.
England finished the day two of the first Test 22 runs ahead, after India were bowled out for 274 runs in the first innings with Kohli making a memorable 149.
The defining knock exorcised the ghosts of 2014 tour of England where Kohli could only muster 134 runs in 10 innings at an average of 13.4.
"I would say that this innings showed different facets of Virat's batting. The main thing is that Virat is flexible about his batting approach. Most of the batters are not flexible when it comes to changing technique or approach. But Virat in this respect is different," said Bangar after stumps on day two.
"He showed terrific discipline I felt. At no instance did he reach out for the ball, and probably couple of our other batsmen reached out, which caused their downfall. But that is something, which we've been speaking of, practicing quite a lot. And on days, these things come off and on certain days those things don't come out as a batter."
Kohli's drive to improve with every innings sets him apart, said Bangar.
"Nowadays we see video analysis of each and every player. Opposition can easily put finger on what lacunae a particular player has. So you have to know your shortcomings, keep working on it and stay a step ahead. Virat's pursuit is for excellence and he keeps working on his craft. So this knock gives immense satisfaction to him," the former India all-rounder said.
The second-highest score for India was 26 from Shikhar Dhawan as the visitors were reduced to 59-3, then 100-5 and later 169-7. It left Kohli to fight back alone, but the skipper didn't disappoint and added 91 runs in the company of Mohammed Shami, Ishant Sharma and Umesh Yadav.
The coach credited the English bowling whilst defending some shot selection, particularly from Hardik Pandya. He added that the three dropped catches off Kohli, and four overall (including off Pandya), worked well in India's favour.
"Once we got a good start, we should've capitalised on it. But the openers handled the new ball really well, and the angles that were created by Sam Curran - credit to him that he could create those angles.
"But if you see the difference between both sides, England is used to playing in these conditions and we don't really play in these conditions too often, yet the gap is a mere 18 runs. Definitely the game is really well placed and Alastair Cook's wicket has put the game in a very, very good balance," said Bangar.
Bangar often works with Kohli in the nets, giving throwdowns and offering advice. In fact, the star batsman takes more throwdowns than batting against spin or pace during overseas tours, a facet of his practice seen on this tour as well.
When asked about what Kohli was working on ahead of this series, the coach said, "He's a versatile player. At times, quality players keep on assessing their own games and where they want to progress. The awareness that is required under certain conditions which may differ from SA, AUS to England, but he does that really well. Again, terrific discipline - when he bats in that fashion, he more often than not gets the team into good positions."
"Today he converted. This individual knock that Virat played might have given him a great sense of satisfaction -- purely the job satisfaction that every professional aspires for. The standout part of this innings was that he was always playing close to his body and he waited for the right chances."
The assistant coach said that Kohli's knock will give a lot of confidence and learning to the other batsmen with a lot of cricket remaining to be played in the first Test.
"If the ball is swinging or turning, it poses a different challenge and you need to guts it out in the middle. There were batsmen on either side who did that – Joe Root and Jonny Bairstow and from our side the openers showed a lot of gumption in the first 10-12 overs and then you saw how Virat had to play through various phases where run making wasn't that easy. "
"At one stage we were staring down the barrel, and the gap was huge, but because of Virat's brilliance and the commitment shown by the batsmen around him - maybe those contributions might not look too many from Hardik, Ashwin, Ishant, Umesh - they might not have scored runs, but they stitched together partnerships and supported Virat beautifully. Because of that it's still even-stevens," he signed off.