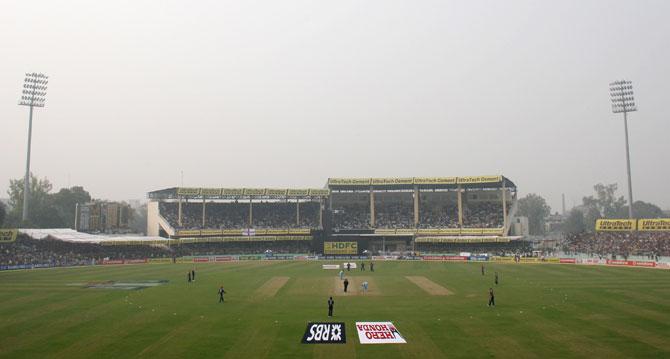 A view of the Green Park Stadium in Kanpur, Uttar Pradesh. Photograph: Julian Herbert/Getty Images
Uttar Pradesh Cricket Association secretary Rajeev Shukla says new stadia will be built in the state to host IPL and limited-overs' matches while Green Park will be used solely as a Test venue.
"To host big tournaments like the IPL, a city should have at least two 5-Star hotels, which Kanpur does not have. Other than that, a stadium with minimum capacity of 50,000 spectators is a must for such events and thus UP's industrial capital cannot host an IPL game," said Shukla, who was in Kanpur for the UPCA's Annual General Meeting (AGM).
"Greater Noida, which seems to posses all the much-needed facilities for an international tournament, can play host to IPL matches. Even the players and officials of the franchise teams will find it a good venue," added the BCCI vice-president.
Shukla reiterated his promise of building three new international-level cricket stadiums in the state. He also said that the association is planning an international cricket academy in Kanpur, which will have foreign players interacting with up-and-coming local boys for greater exposure.
"Ghaziabad or Agra in west UP, Varanasi and Kanpur in east UP are on the radar for building of three new international stadiums. We are in search of land for these stadiums. Grounds are also being developed in cities like Gorakhpur, Allahabad and Moradabad to conduct Ranji and international matches," said Shukla.
"Work is in progress for an International academy in Kanpur's Kamla Club and four former players have been appointed as coaches. The academy will be equipped with a 3-Star level hostel, gym and added facilities will be provided. Also in the set-up, former West Indies bowlers are being contacted as coaches, and for fielding and batting departments, ex-players from South Africa and Australia are being contacted," he added.
He said cricket will be given a boost in all districts of the state to encourage young talent to come forward and blossom at the national level.