Legendary West Indian batsman Brian Lara and dashing Australian wicketkeeper batsman Adam Gilchrist are among overseas players who have been put in the top bracket base price for the upcoming auctions of the fourth edition of Indian Premier League.
Sources reveal that Mitchell Johnson, Michael Clarke and Ricky Ponting's names don't figure in the list that the IPL governing council has sent to the franchisees.
Around 400 foreign players have expressed their willingness to be a part of the cricketing extravaganza. They have been classified in six brackets ranging from $20,000 to $400,000.
The Australians have only three players -- top scorer of IPL-I Shaun Marsh, captain of the Deccan Chargers Gilchrist, and speed merchant Brett Lee -- in the top bracket base price. Hussey brothers – Michael and David -- are in the second base price bracket of $300,000 while T20 and ODI specialist David Warner is in the third bracket with a base price of $200,000.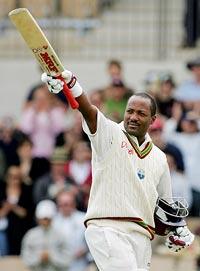 However, it was surprising that West Indian legend Lara, who has last played a ODI back in 2007, has been classified in the top bracket.
"Brian Lara is a big brand name. Also he may not have been too comfortable being bracketed in a lower base price category," an IPL source told PTI today.
Chris Gayle is the only other West Indies player in the top bracket.
Defending World T20 champions England have six players Stuart Broad, James Anderson, Kevin Pietersen, Graeme Swann, Luke Wright and Michael Yardy in the top bracket. New Zealand have skipper Daniel Vettori, deputy Ross Taylor and wicketkeeper batsman Brendon McCullum in the top rung.
Sri Lankan captain Kumar Sangakkara is however missing from the elite group as only two Sri Lankans -- Mahela Jayawardene and TM Dilshan -- have found a place in the top slot. South African captain Graeme Smith and AB de Villiers are in the top bracket too.
There are no Bangaldeshis in the Elite group as Shakib Al-Hasan is the player with highest base price of $200,000.
Mohammed Ashraful and Tamim Iqbal have base prices of $50,000 and 100,000 respectively.
Top Bracket Base Price ($400,000):
Australia: Adam Gilchrist, Shaun Marsh, Brett Lee
England: Kevin Pietersen, James Anderson, Graeme Swann, Stuart Broad, Luke Wright, Michael Yardy
Sri Lanka: TM Dilshan, Mahela Jayawardene
West Indies: Chris Gayle, Brian Lara
New Zealand: Daniel Vettori, Ross Taylor, Brendon McCullum
South Africa: Graeme Smith and AB de Villiers.