'It's been a pretty big buildup to this day-night Test match ... the boys are ready to go'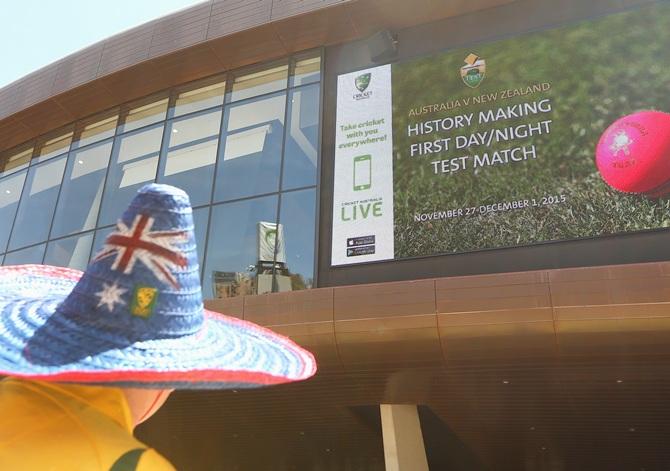 IMAGE: Spectators arrive at the Adelaide Oval for the first ever day-night Test match. Photograph: Cameron Spencer/Getty Images
New Zealand captain Brendon McCullum won the toss and chose to bat first against Australia on Friday in cricket's inaugural day-night Test match at Adelaide Oval.
Australia paceman Mitchell Starc captured the prized wicket of Kane Williamson late in the session as New Zealand reached 80-2 at the first interval.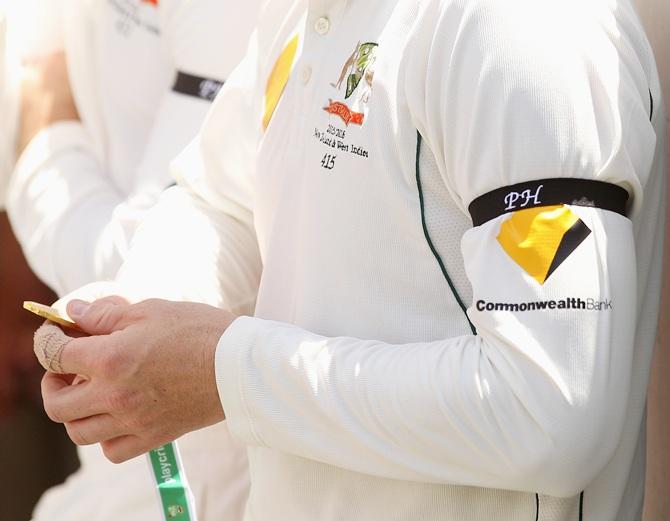 IMAGE: The Australian cricket team wear black arm bands in remembrance of Phil Hughes. Photograph: Quinn Rooney/Getty Images
Australia, who lead the series 1-0, have already retained the Trans-Tasman trophy following the draw in Perth, but both teams will be eager to etch their names in the record books as the first to win a test played under floodlights.
New Zealand also have a proud record to defend, having not been defeated in seven test series since 2013 under McCullum.
Although both teams have played warmups under lights with the specially developed pink ball, the match is something of a leap into the unknown.
Batsmen have reported problems seeing the ball clearly at twilight and the bowlers will hope to exploit that during the later sessions.
IMAGE: Spectators hold up a tribute to former cricketer Phillip Hughes. Photograph: Morne de Klerk/Getty Images
After having a poor run with the flip of the coin, McCullum joked that it was a 'miracle' he had won it.
"We definitely wanted to bat first," he told state radio broadcaster ABC in a pitchside interview. "It's going to be challenging the first hour or so ... There is grass but there's been grass the last couple of wickets as well."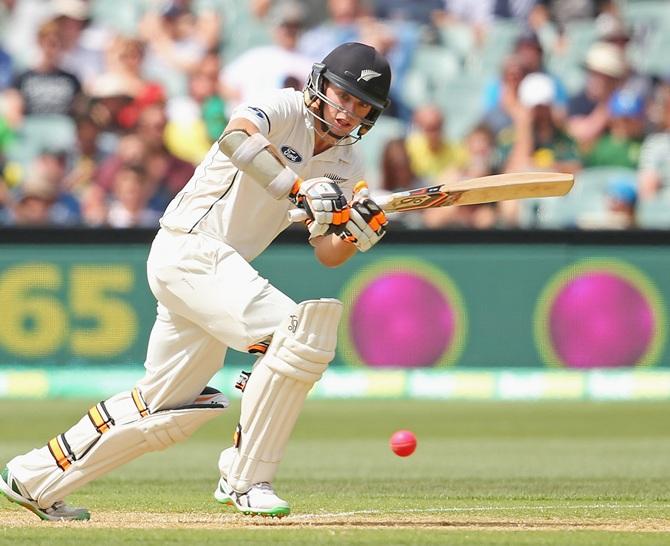 IMAGE: Tom Latham of New Zealand bats. Photograph: Quinn Rooney/Getty Images
Smith said he would also have elected to bat first.
"I think if we bowl well up front it will be quite difficult for their batters," he added.
"It's been a pretty big buildup to this day-night Test match ... the boys are ready to go."