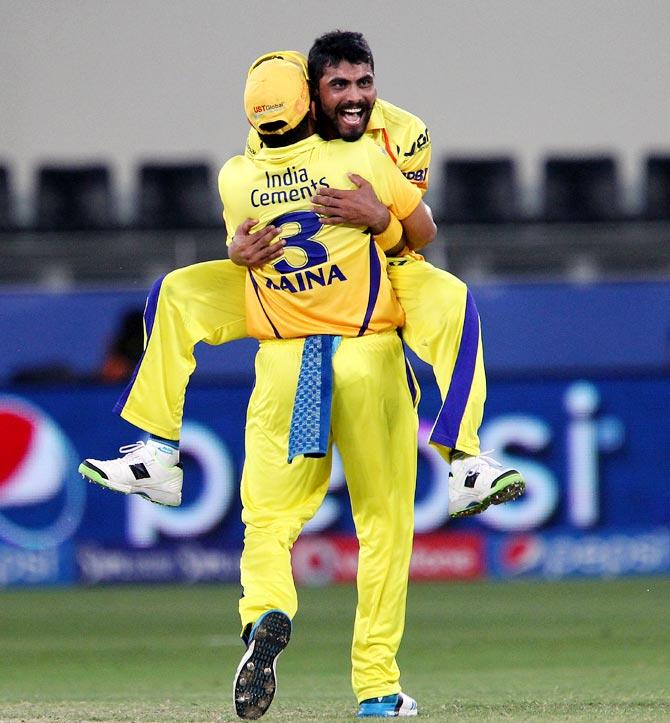 IMAGE: Ravindra Jadeja and Suresh Raina are two Indian stars with Rajkot franchise. Photograph: BCCI
Former skipper Sunil Gavaskar has suggested that Rajkot, the new team in the Indian Premier League, should have an Indian captain, saying it makes sense to have somebody who knows the local players well at the helm.
Mobile company Intex bagged the Rajkot franchise in the bidding process for two new franchises -- necessitated following the suspension of Chennai Super Kings and Rajasthan Royals for the next two editions of the Twenty20 league for the involvement of some of their officials and co-owners in the 2013 IPL spot-fixing scandal -- and picked Suresh Raina, local hero Ravindra Jadeja, dashing New Zealand batsman Brendon McCullum and Australian all-rounder James Faulkner at the Player draft that was held in Mumbai on Tuesday.
"In IPL it makes sense that team has an Indian captain. He knows local players, knows the weaknesses and strengths of local players. And you need an Indian coach if you make Brendon McCullum the captain," the legendary India opener said.
He felt the Pune franchise would be favourites since they have India's One-day skipper Mahendra Singh Dhoni in their ranks.
"Any team that has MS will start as favourite. The kind of cricket he plays, he can turn the match on its head. Then, Pune has Ashwin, who is in incredible form and Faf du Plessis. Balance in any team is crucial. Pune, I think, is a little stronger than Rajkot," Gavaskar told NDTV.
"It's triple delight. He (Dhoni) is a player, captain and a brand. Any new franchise needs someone like MSD. He is the biggest brand in Indian sports. He brings that leadership quality on the table. Pune has done the right thing by picking him."
Gavaskar added, Gujaratis will receive the Rajkot team with "great enthusiasm".