'He has led India to wins in the World T20, the World Cup and the Champions Trophy. Which other captain in the world can boast of such a record?'
'And if it is about form, then Kohli isn't in the best of form. Neither is Dhawan. So what do you do? Drop them all?'
Former Indian coach Gary Kirsten speaks to Bikash Mohapatra/Rediff.com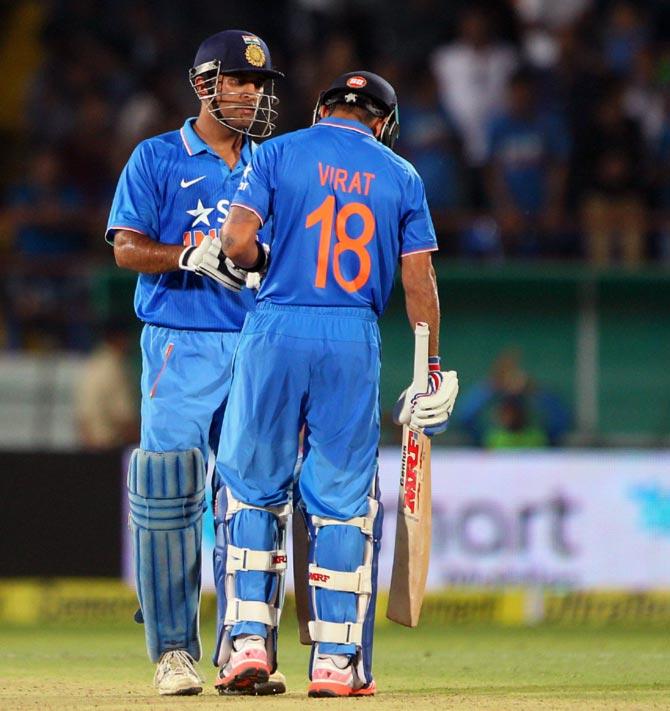 IMAGE: India's Captain Mahendra Singh Dhoni with Virat Kohli during the third ODI in Rajkot, October 18.
Gary Kirsten is without doubt the most successful coach in Indian cricket.
Having enabled Team India lift the Test mace -- as the no 1 ranked Test nation -- in 2009, the South African proceeded to help India end a 28-year drought and lift the ICC World Cup on home soil in April 2011.
Now the brand ambassador of the First Rand Bank (India), Kirsten was in Mumbai to launch his wife Deborah's book, Chai Tea and Ginger Beer.
In an exclusive interview with Bikash Mohapatra/Rediff.com, Gary Kirsten explains why he believes so strongly in the current South African side.
How do you look back at your stint with the Indian team?
It was a memorable three years, something to cherish.
We set out to keep egos aside and build a team, and I think we succeeded to a great extent. Of course, MS (Dhoni) had a big role to play in the same.
Was winning the World Cup more memorable? Or was taking Team India to the top of the Test rankings?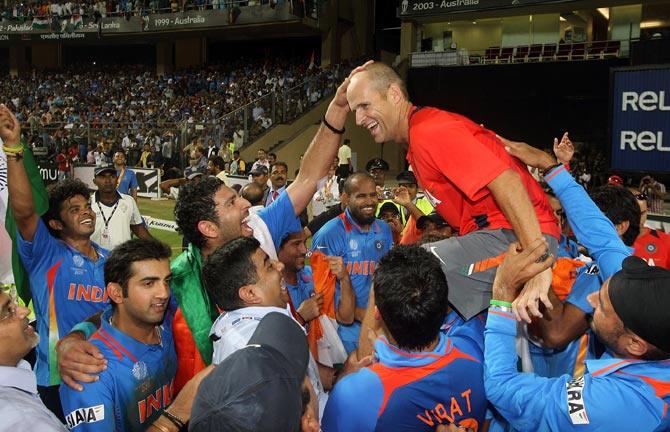 IMAGE: Gary Kirsten celebrates with the Indian team after India beat Sri Lanka to win the 2011 World Cup at the Wankhede stadium in Mumbai, April 2, 2011. Photograph: Hamish Blair/Getty Images
I was never worried about the results.
The focus was on building a team. All of us worked towards making Team India a strong unit, one that could win on a consistent basis.
We were aware that once that goal is achieved, results would start coming in.
And they did.
The period following your exit as coach was the worst in recent history for the Indian team... (interrupts)
That's being harsh...
India suffered 0-4 defeats in England and Australia...
Those are tough places to tour. Winning on tour in England and Australia is difficult for any team.
How would you assess the four years of Team India since you left? Do you believe Duncan Fletcher did a decent job?
Well, they changed the team.
It is always difficult to build a new team from scratch. But they did it.
The results are now showing. Ajinkya Rahane has developed into a dependable batsman. Shikhar Dhawan and Rohit Sharma are also doing well.
Ravichandran Ashwin and Bhuvneshwar Kumar have become dependable bowlers.
In terms of results, India won the ICC Champions Trophy in 2013, made the semi-finals of this World Cup.
So yes, they have done a good job.
You were South Africa's coach after you left India. How do you look back at that stint?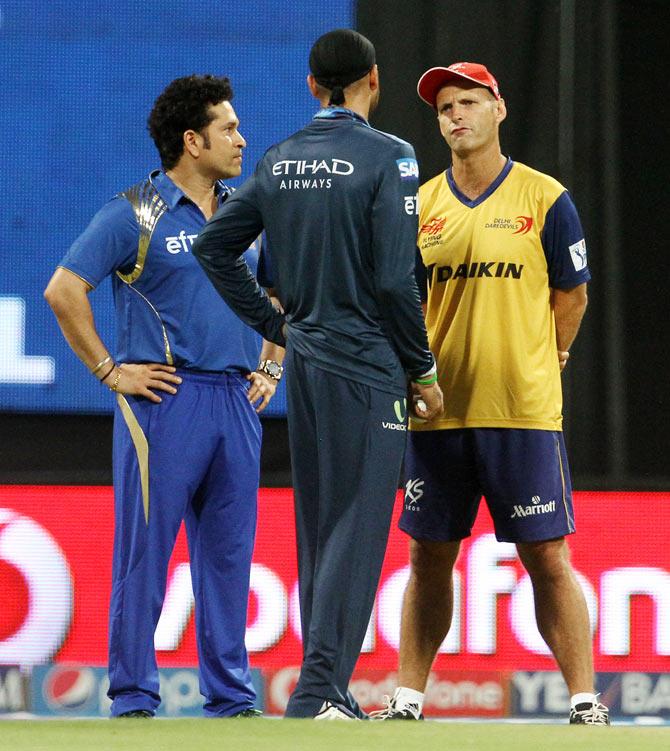 IMAGE: Gary Kirsten with Sachin Tendulkar and Harbhajan Singh during a Delhi Daredevils-Mumbai Indians game, May 2015.
It was a good two years.
Again, it was about building a team.
And we reached the no 1 ranking in Test cricket.
But the World Cup jinx remains. This year, it was yet another disappointment...
The jinx has been there for a while now.
But it is also a fact that we have been unlucky. Like this year, had it not rained we would have had a better chance.
The manner in which AB (de Villiers) was batting, a score of around 350, 360 seemed a possibility, and New Zealand couldn't have chased that.
I believe South Africa hasn't had luck going their way as well.
Besides, winning a tournament isn't easy. Before the 2011 World Cup the Indian team had reached 24 finals. Do you know how many they won?
Just four of them.
Do you believe this South African side can win the Test series in India?
Of course, we will win.
This is a great South African side. The overseas record of this side is an enviable one.
We have a great batting line-up, with AB (de Villiers), Hashim (Amla), Faf (du Plessis), JP (Duminy) and others.
And we have the best fast bowler in subcontinent conditions (Dale Steyn).
Do you know when was the last time India beat South Africa in a home Test series?
Back in 2004...
You have got your facts right.
I was part of the side that scored a memorable series win in India in 2000. And we lost the following series. Thereafter, we haven't lost a Test series in India.
In 2008 and 2010, South Africa took the series lead only to succumb on turning tracks in subsequent Tests...
Yes, the track in Kanpur in 2008 was a rank turner. It was a disappointing defeat.
But then that's the beauty of Test cricket.
You got to expect a certain kind of wicket when you tour and adjust accordingly.
When you tour England you expect seam and swing, when you tour the subcontinent the wickets turn and in South Africa you expect pace and bounce.
Coming back to your own career, the last two seasons with Delhi Daredevils -- in the Indian Premier League -- haven't exactly been great...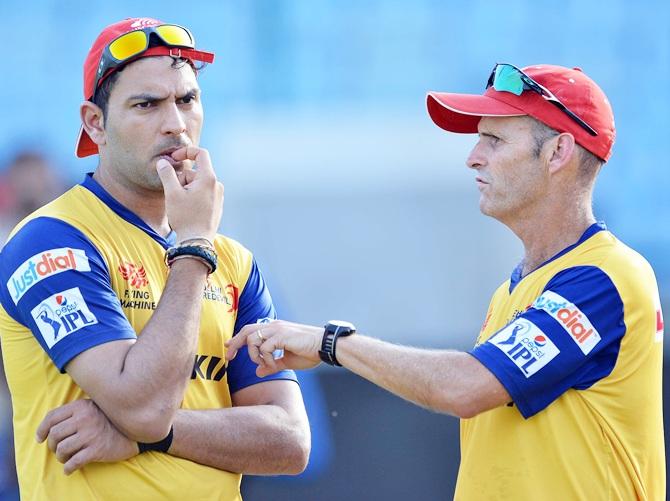 IMAGE: Yuvraj Singh with Delhi Daredevils Coach Gary Kirsten. Photograph: BCCI
It's been difficult, more so because they completely changed the team.
As I said, it is difficult to build a new team.
However, I can say that we have improved this season compared to last. We won five games this year.
Besides, we have unearthed a few new talents. Shreyas Iyer has emerged as a dependable batsman. Mayank Agarwal is doing well. So we are looking forward.
Do you think paying so much for Yuvraj Singh was a mistake?
Who could we have brought otherwise?
We wanted to buy a marquee Indian player and the only available options were Yuvraj and Dinesh (Karthik).
You don't know while buying a player how he is going to perform.
You mentioned Dhoni played a key role when you were India's coach. He has faced a lot of flak recently with many calling for his head... (interrupts)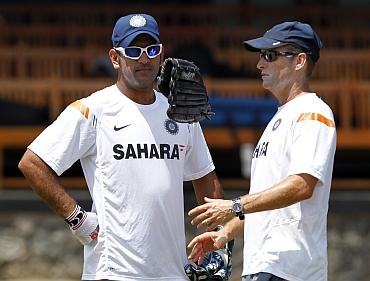 It is unwarranted.
He has led India to wins in the World T20, the World Cup and the Champions Trophy. Which other captain in the world can boast of such a record?
And if it is about form, then Virat Kohli isn't in the best of form. Neither is Shikhar Dhawan. So what do you do? Drop them all?
Dhoni still averages more than fifty (52.63) in limited overs cricket. It is absolutely ridiculous to be asking him to step down.