The cricket career of Pakistan captain Misbah-ul-Haq has come a full circle. Misbah is no longer 'Mr Tuck Tuck'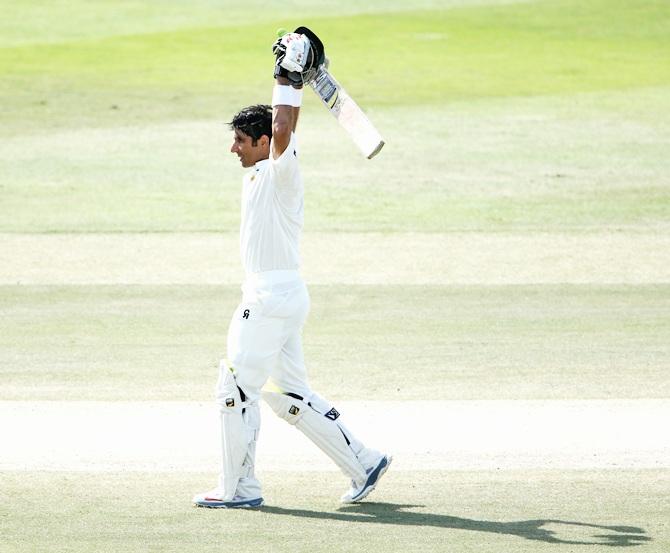 Misbah-ul-Haq, Pakistan captain celebrates. Photograph: Warren Little/Getty Images
From the offensive tag of 'Mr Tuck Tuck' to chants of 'Go Misbah Go', the cricket career of Pakistan captain Misbah-ul-Haq has gone full circle.
On Sunday he silenced his critics by scoring the fastest test hundred, equalling the mark held by former West Indian great Viv Richards, and a day later he delivered the coup de grace by leading Pakistan to their first Test-series victory over Australia in 20 years.
Last month the pressure was beginning to build on the 40-year-old Misbah following a string of calls for him to step down as skipper of the one-day side after a run of low scores and defeats against Australia.
Matters came to a head before the third one-dayer at Abu Dhabi when he handed over the captaincy to Shahid Afridi.
Pakistan lost that match narrowly and, according to former Test spinner Abdul Qadir, victory would have meant Afridi remaining as skipper for next year's World Cup.
'It is no secret he was not a popular choice'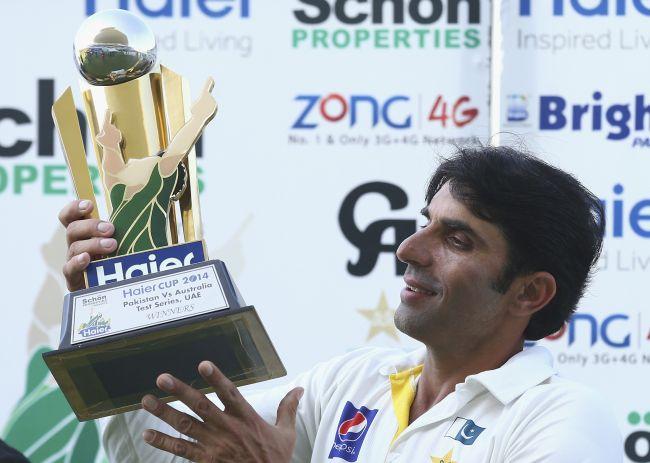 Misbah-ul Haq celebrates with the trophy after Pakistan won the series 2-0 during Day five of the Second Test between Pakistan and Australia. Photograph: Ryan Persie/Getty Images
"Everyone knows that if Pakistan had won the third ODI it was curtains for Misbah," Qadir said. "It is no secret he was not a popular choice to remain captain and there was lots of pressure put on him after a few bad scores."
The captain, however, roared back to form with an innings of 69 in the first-Test win over Australia and followed it up with centuries in each innings of the second match as Pakistan completed a 2-0 series triumph to climb to third in the world rankings.
"It has been an incredible series for me and a big turnaround," Misbah told reporters at the end of the game in Abu Dhabi on Monday. "The series win for me is of more value than my hundreds."
Since taking over as skipper in 2010 after Pakistan lost three players, including captain Salman Butt, over the infamous spot-fixing scandal in England, Misbah has cast an enigmatic figure.
Too defensive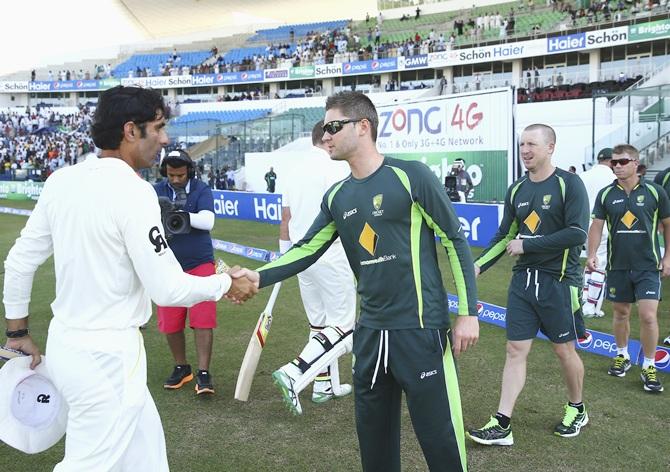 Misbah-ul Haq of Pakistan and Michael Clarke of Australia shake hands after the match. Photograph: Ryan Pierse/Getty Images
Despite being his team's top run-scorer in tests and ODIs in the last two years and boasting a respectable record as captain, his detractors believed him to be too defensive as a leader and a batsman.
A year after being given the moniker 'Mr Tuck Tuck' (blocker), cries of 'Go Misbah Go' can now be heard among the fans.
"The criticism of him was unjustified," former test batsman Mohsin Khan said.
'People want drama and emotions on the field because cricket is now commercialised'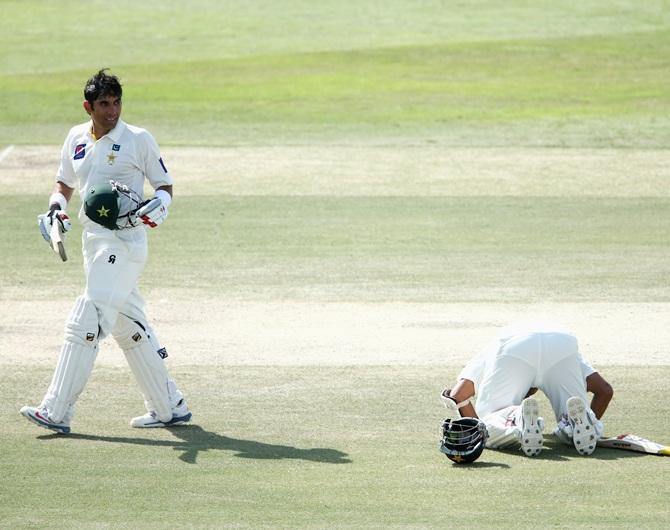 Misbah-ul-Haq and Azhar Ali of Pakistan celebrate as they both reach their centuries. Photograph: Warren Little/Getty Images
Mohsin worked with Misbah as interim coach when Pakistan whitewashed England in a Test series in the Middle East in 2012.
"He batted the way he did because it was the team requirement," he added. "And given the limited resources he had after the spot-fixing scandal I thought he led the side sensibly with no pretensions."
Misbah has now equalled the record of Imran Khan and Javed Miandad for most Test wins as skipper (14).
"He is not a popular captain because he belongs to the old school of cricket," said former board chairman Najam Sethi.
"People want drama and emotions on the field because cricket is now commercialised.
"When I backed him earlier this year many people told me we needed a more energetic captain for the World Cup. I supported him because he has stabilised our cricket."