Ricky Ponting looked poised to make amends for running out Usman Khawaja with a big score as Australia reached 154-3 in reply to New Zealand's first innings 295 after the second day of the first Test on Friday.
Ponting had made 67 when bad light brought an early end to the day alongside his successor as skipper Michael Clarke, who was fortunate to reach 28 after being bowled by Doug Bracewell, only for the umpire to call him back after adjudging the delivery a no-ball.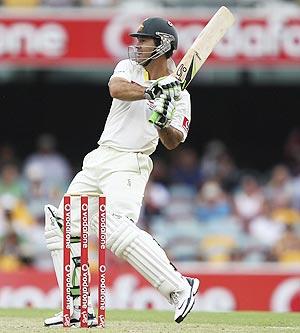 The 36-year-old Ponting had steadied the innings with Khawaja after the cheap loss of both openers but hared off for an ill-considered single on the first ball after tea and Kane Williamson accepted the gift with an athletic underarm throw.
Khawaja departed for 38 with a glower on his face leaving Ponting, who is looking to end a 21-month wait for his 40th Test century, to progress to his 58th half century, his second in consecutive Tests.
A run-out also figured large in New Zealand's innings with Daniel Vettori throwing away his wicket just four runs short of his seventh Test century to trigger a collapse from 254-5 to 295 all out just before lunch.
Australia's openers had just two overs to negotiate before the lunch break and debutant David Warner hit a crisp three off Vettori for his first Test runs in the first.
Tim Southee, however, brought an early end to his outing with his first ball, a short delivery that caught the 25-year-old on the gloves and left wicketkeeper Young with an easy catch.
His fellow opener Hughes (10) fell victim to peach of a ball from Chris Martin and a low catch from Martin Guptill but the quality of the delivery will not reduce the pressure on the 22-year-old after another failure left Australia wobbling on 25-2.
New Zealand had resumed in the morning on 176-5 with Vettori and Dean Brownlie assiduously extending their sixth-wicket partnership to 158 before the former captain was run out.
Vettori had just smacked a neat four to move onto 96 when he drove a Nathan Lyon delivery to mid-off and set off optimistically for a run.
Mike Hussey gathered the ball and the accuracy of his throw made Vettori's despairing dive academic and sent the 32-year-old trudging back to the pavilion.
Reece Young (two) lasted less than an over and Bracewell soon followed for a duck with Tim Southee (17) and Chris Martin (one) also failing to keep company with Brownlie, who finished with an impressive unbeaten 77 in his second Test.
Lyon, playing his first match at a ground which traditionally offers little for spinners, took three of the last four wickets to finish with 4-69.
Scorecard (at stumps)
New Zealand (1st innings): (overnight 176-5)
B McCullum c Warner b Starc 34
M Guptill c Haddin b Siddle 13
K Williamson c Khawaja b Lyon 19
R Taylor b Pattinson 14
J Ryder c Warner b Starc 6
D Brownlie not out 77
D Vettori run out 96
R Young c Clarke b Siddle 2
D Bracewell c Clarke b Lyon 0
T Southee c Hussey b Lyon 17
C Martin b Lyon 1
Extras: (lb-1, b-9, w-3, nb-3) 16
Total: (82.5 overs) 295 all out
Fall of wickets: 1-44, 2-56, 3-78, 4-93, 5-96, 6-254, 7-256, 8-259, 9-290.
Bowling: Pattinson 15-1-64-1 (nb-2, w-2), Siddle 24-8-57-2 (w-1, nb-1), Starc 20-1-90-2, Lyon 21.5-1-69-4, Hussey 2-0-5-0.?
Australia (1st innings):
D Warner c Young b Southee 3
P Hughes c Guptill b Martin 10
U Khawaja run out 38
R Ponting not out 67
M Clarke not out 28
Extras: (lb-1, w-1 nb-6) 8
Total: (46 overs) 154 for 3
Fall of wickets: 1-3, 2-25, 3-91
Bowling: Vettori 9-2-23-0, Southee 12-5-31-1, Martin 12-2-38-1 (w-1), Bracewell 10-2-50-0 (nb-5), Guptill 1-0-6-0 (nb-1), Brownlie 2-0-5-0.