Perhaps for the first time, India's pace strength is not centred on any one individual, or set of individuals, says Chetan Narula.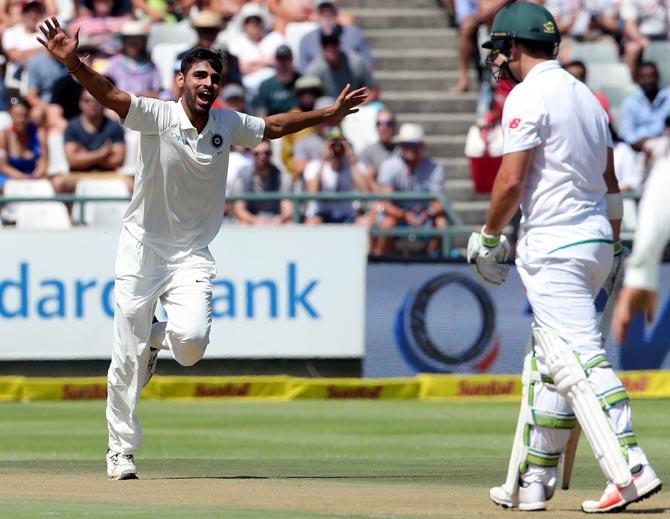 IMAGE: Bhuvneshwar Kumar celebrates Dean Elgar's wicket in the first Test in Cape Town. Photograph: BCCI
South African coach Ottis Gibson talks a straight game. Before the first Test, he underlined how India could challenge his side despite the bowler-friendly conditions at Newlands.
After the match ended in a 72-run loss for the visitors, bolstered by his bowlers' show, Gibson threw down a further gauntlet. South Africa, Gibson said, would continue with pace battering India in the Centurion and Johannesburg Tests.
"When you're playing at home you play to your strengths and at the moment we have some high-quality fast bowlers. Throughout this series, we'll be looking to see how best we can fit four fast bowlers into whatever formula we come up with, given more pace-friendly conditions in the next two Tests. I am a very fast-bowling minded coach," Gibson said.
It is easy to see why; after all, Gibson hails from Barbados, the land that gave us Joel Garner and Malcolm Marshall.
He grew up on a strict pace-diet of watching them bowl in tandem with Michael Holding, Andy Roberts, Colin Croft and, later, Courtney Walsh and Curtly Ambrose.
No wonder he is trying to find their likeness in Vernon Philander, Morne Morkel, Kagiso Rabada and Lungi Ngidi.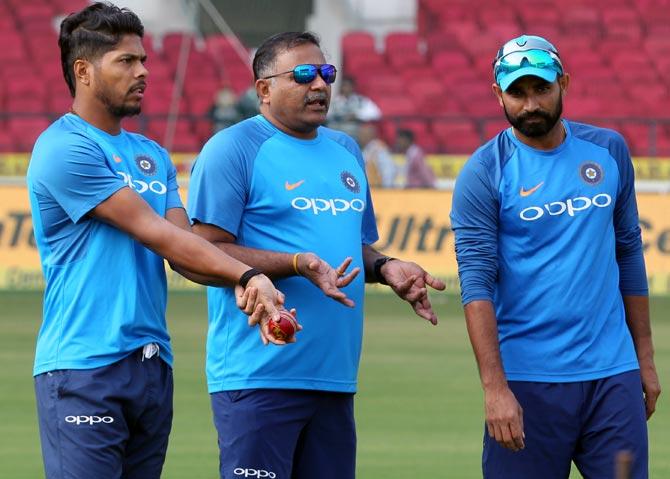 IMAGE: India Fast Bowling Coach Bharat Arun with Umesh Yadav and Mohammed Shami. Photograph: BCCI
Yet, in Gibson's fiery pace warning, the Proteas' own batting failures were hidden in the first Test.
The hosts were reduced to 12/3 and 142/5 in the first innings before a dropped catch allowed them breathing space to reach 286.
In the second innings, they couldn't match India's score, out for 130 after losing their last 8 wickets for just 65 runs.
South Africa lost 18 of their 20 wickets to India's four-pronged pace attack of Bhuvneshwar Kumar, Mohammed Shami, debutant Jasprit Bumrah and all-rounder Hardik Pandya.
They brought to light that not only are the home batsmen vulnerable in seam-friendly conditions, but also the fact that this Indian fast-bowling attack -- being built up for some time now -- can give any team a run for their money in their own backyard.
It is a huge departure from 2013-2014, when India last set out on a long-haul overseas cycle.
Remember Zaheer Khan? Back then, he was hauled out of refrigeration after 13 months as Mahendra Singh Dhoni prepared his team to tour South Africa and New Zealand.
The left-arm pacer -- a mighty prospect in his heyday and a wily customer in his latter series -- just didn't possess the fitness to last more than four Tests.
In the 2014 summer, India relied on Bhuvneshwar Kumar's swing to somehow put up a fight in England.
There was a glimmer of hope here and there, a nod to the future if you will, like the Lord's Test in 2014, where India registered a surprising victory against England on a tailor-made green-top wicket.
Yet, it wasn't until the Australian tour later in 2014-2015 that this current pace attack started taking shape.
Ishant Sharma, Shami and Yadav became the foremost choice on hard Australian wickets while Bhuvneshwar Kumar waited his time in the wings.
Over the past three seasons then, they have fought umpteen injuries and worked like mules on sub-continental pitches.
More importantly, they have grown together as a group, molded into a truly awe-inspiring Indian fast bowling attack.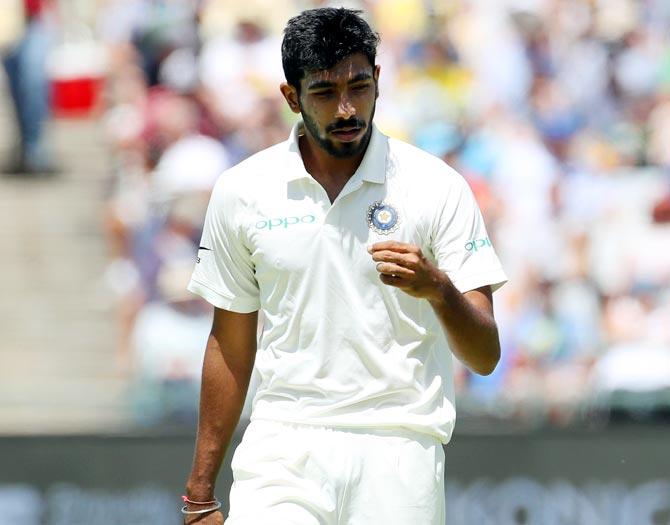 IMAGE: Jasprit Bumrah, playing his first Test series in South Africa. Photograph: BCCI
Perhaps for the first time in history, India's pace strength is not centred on any one individual, or set of individuals.
This has been achieved through a careful rotation policy, based on clinical judgment of opposition, conditions and bowlers' workloads, which in turn has provided the Indian team management with a blueprint for overseas success.
And it showed full well at Newlands, in the planning and execution of each of those 18 dismissals shared by Kumar, Shami, Bumrah and Pandya.
"I thought they bowled beautifully in the first Test. In the past we have seen Indian pacers get carried away with bounce on South African pitches and bowl short. You need to bowl a fuller length here to get movement and India's pacers did exactly that in Cape Town," said Lance Klusener, the former South African all-rounder.
"They have obviously talked about it, learnt from the past and it was wonderful to see them execute their skills," Klusener added.
Perhaps the only debatable point in their wonderful showing was how skipper Virat Kohli happily ignored two pacers boasting 115 Tests between them (Ishant and Yadav) and happily handed a maiden Test cap to an ODI bowler looking to make his mark in Test whites.
That it was a mixed debut for Bumrah further underlines what needs to be rectified, but he came up with an improved showing in the second game and he no doubts adds another dimension to this young and skilled Indian fast bowling attack.