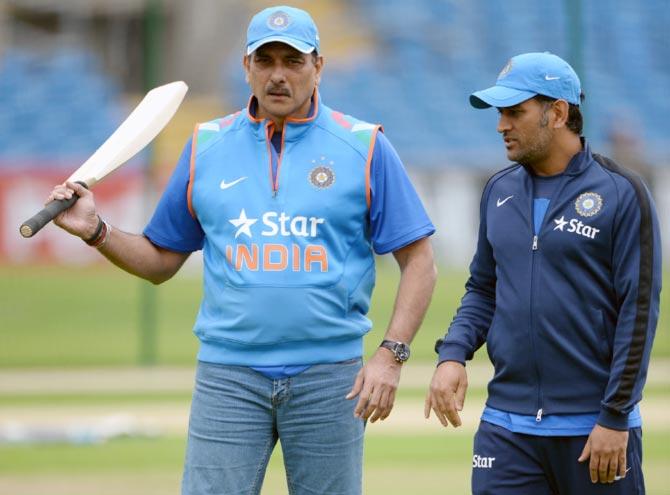 Ravi Shastri (left) with India captain Mahendra Singh Dhoni. Gareth Copley/Getty Images
Ravi Shastri can prove handy in the dressing room with his inputs, says Rediff.com's Harish Kotian.
India's just-concluded tour of England can best be described as one which started with a lot of promise but ended in disappointment.

A new-look team, with a new generation of cricketers and oozing confidence, showed signs of a new dawn for Indian cricket after a historic victory in the second match of the five-Test series at Lord's, only to be put back in place by dominating English performances thereafter.

What was more painful was the team crumbling to a 1-3 series defeat without a fight.

In the ODIs that followed, the team appeared to have become complacent after taking an unassailable 3-0 lead, as a lacklustre showing saw England thrash them in the final ODI by 83 runs. The hosts then carried that confidence and vigour to the one-off Twenty20 game where India's IPL heroes were sent running for cover.

What was common in both the Tests and limited-overs' series was that India let the initiative slip after starting off with much promise. It was clear that the team got carried away after initial success.

Ravi Shastri's appointment as Team Director after the Test series debacle paid off, as India won three straight ODIs, but the last two defeats will certainly hurt. In the fifth and final ODI and one-off T20, England outplayed India in all departments of the game. That could be a big concern with around five months to go for the World Cup.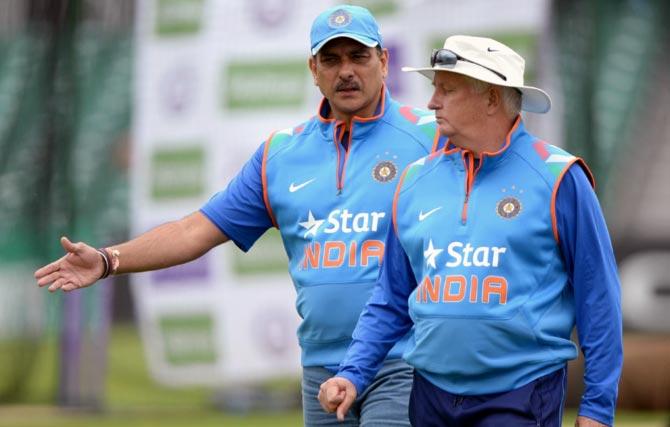 Ravi Shastri (left) with India coach Duncan Fletcher. Gareth Copley/Getty Images
While coach Duncan Fletcher could well get the axe after returning from England, or survive till the World Cup, it is evident that the Zimbabwean was a disappointment and urgent measures are needed to steady the ship.

He was unable to inspire the team in the Test series, forcing the BCCI to act swiftly and bring onboard Shastri as Team Director, a never-heard-of-before designation created exclusively for the former India all-rounder.

Shastri has occupied virtually every position in Indian cricket, including member of the IPL Governing Council. Having also seen the team from close quarters in his role of television commentator, it could well be time for him to apply the remedies he has suggested on air to revive the team.

Even if the BCCI decides against retaining Fletcher, it should consider retaining Shastri at least till the World Cup. After all, he commands a lot of respect from the current bunch of players.

For India to make a successful defence of the World Cup, they need to get it right in all departments, including team selection and support staff. Given his vast experience, Shastri can certainly prove handy in the dressing room with his inputs.

What are your thoughts on Shastri continuing as Team Director till the World Cup? Should the BCCI retain him?
VOTE: Should Shastri continue till the World Cup?