The Indian team management has not yet sought a cover for skipper Mahendra Singh Dhoni, who sustained a thumb injury before the fourth ODI against England at Mohali, increasing the possibility of his playing in the final match in Dharamsala on Sunday.
In fact, the Indian skipper was seen actively participating in a soccer session at the picturesque stadium.
While the English team took a break from their training session, a relaxed Indian side enjoyed their soccer session in the afternoon.
Dhoni has sustained injuries in the past during the training sessions but has shown enough grit to come out and lead the side admirably.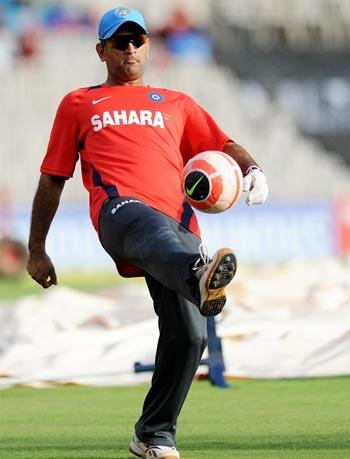 Earlier, there were doubts about the Indian captain's participation in the third one-dayer against Pakistan in New Delhi earlier this month and Dinesh Karthik was flown in as a cover.
During the game, Virat Kohli was hit by the football and he was out of action for a brief period before the match resumed again.
The Dharamsala pitch is expected to help the batsmen and with the sun beating down, it can become conducive for strokeplay.
However, the open nature of the ground and the cool morning breeze will also keep the seamers interested on a strip that curator Sunil Chauhan termed as "sporting wicket."
Photograph: BCCI