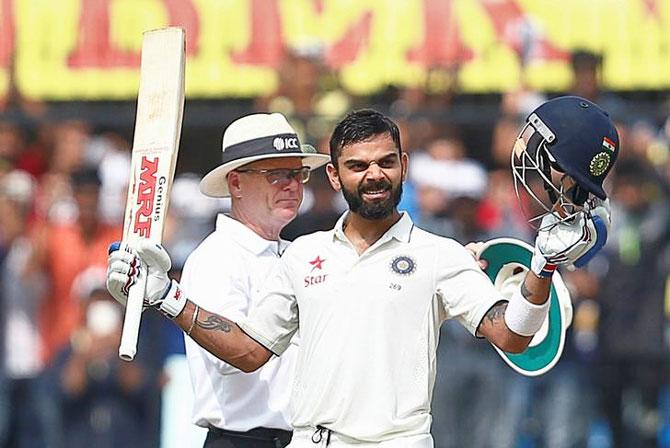 IMAGE: India's Virat Kohli celebrates his double century against New Zealand on Monday. Photograph: Danish Siddiqui/Reuters
India's Test skipper Virat Kohli became the first batsman to score a century in the three-match series when he stroked his way to a career-best 211 on Day of the 3rd Test in Indore on Wednesday.
- PHOTOS: Sensational Ashwin spins India to series whitewash
- India captain Kohli presented with ICC Test Championship mace
It was the second double century by Kohli in the space of six Tests and three months. He is the only Indian to hit two double centuries as a Test captain.
And, after India won the third Test against New Zealand on Tuesday, the captain expressed his gratitude towards batting coach Sanjay Bangar at the post-match press conference.
"I want to thank Sanjay Bangar, he's the batting coach and he gives one the assurance that 'you're playing well, stay in this zone'. This is a big help. Many times you are in such a position that you are thinking about many things, but there should be some person who could talk with you, share your load and thoughts. He does that on a regular basis. So I thank him. Many people ignore the hard work the support staff does behind the scenes, the role it plays."