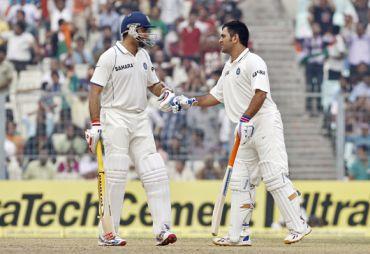 It was one of the most unpleasant episodes in the recent history of Indian cricket.

And it involved two of its most high-profile names.

Rahul Dravid's sudden retirement last year, coupled with his own poor form, meant there was mounting pressure on VVS Laxman to call curtains on his international career.

Frustrated by the continuous speculation, the veteran batsman announced a sudden retirement, two days before he was supposed to take the field against New Zealand on his home ground.

Laxman's surprise decision gave rise to conspiracy theories that he had been forced to make the announcement because his equation with captain MS Dhoni had
worsened.
Though the two players refrained from making comments against each other at the time, the tension was obvious.
The episode marked an unfortunate end to what had been an illustrious career.
Six months later, though, Laxman is happily retired and prefers not to talk about the episode. Neither is there any animosity towards India's captain.
"Dhoni and I are friends," said Laxman, on the sidelines of a function in Hyderabad.
"He is an amazing person and a very good captain," he added.
Dhoni, till recently, was criticised for his captaincy, following Team India's poor run of form, with many calling for his resignation.
Laxman, however, refused to buy the argument, saying there is no alternative available to the incumbent.
"Dhoni is the best person to lead this Indian side at the moment," he concluded.