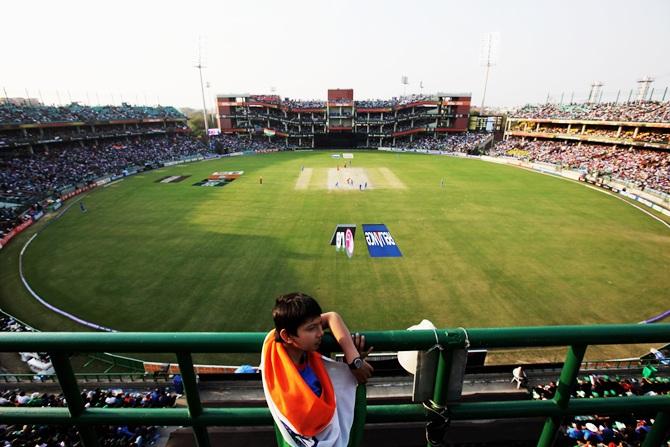 IMAGE: New Delhi's Feroz Shah Kotla cricket ground. Photograph: BCCI
The fourth and final Test match between India and South Africa to be held in Delhi from December 3-7 is set to be moved to Pune after the Arvind Kerjiwal-led Aam Aadmi Party government refused to grant Delhi and District Cricket Association the required permissions to host the match.
DDCA had asked the ruling AAP government to defer the payment of around Rs. 24.5 crore which is due to the Department of Excise, Entertainment and Luxury Tax but their request was not heeded to.
The Board of Control for Cricket in India has given DDCA a deadline date of November 17 to get the requisite permission for hosting the match pending which it would be shifted to Pune, which was recently promoted as a Test venue.
Former India Test player Chetan Chauhan, who is the working president of DDCA, along with some other officials had met Delhi chief Minister Kejriwal and also Entertainment Tax Commissioner Sanjay Kumar asking them to postpone the recovery of tax, but the talks failed to materalise.
In fact, Kumar has decided to follow the book of Law and asked DDCA to immediately make a part payment of Rs. 5 crore -- which is the principal amount on entertainment tax excluding Rs 13 crore as interest and Rs 6.45 crore as penalty.
However, DDCA, which has not been granted their annual funds from the BCCI for the last two years because they have not filed their accounts for the said period, have expressed their inability to make the payment.
Without getting the tax certificate, it will be impossible for DDCA to host the Test match as the BCCI will stick to it's stand of moving the match out of Delhi on November 17, a decision which was taken at the Board's annual general meeting earlier this month.
Incidentally, Tuesday is a public holiday in Delhi on the occasion of Chatt Pooja. It is a major roadblock for any prospective meeting between the DDCA officials and the State government.