Modified it may be but England's one-day captain Alastair Cook is glad that the Decision Review System will be in place for his side's series against India next month after being made mandatory in all Tests and ODIs by the ICC.
"I believe DRS helps get more right decisions, which is the most important thing," Cook said ahead of the first ODI against Sri Lanka at The Oval in London.
- Indian players satisfied with modified DRS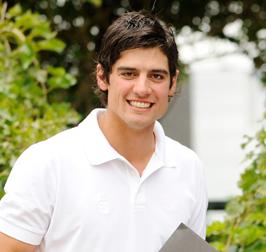 "What we need is players getting the right decisions, whether they are in or out, and that is the end of the matter. I think technology to get those decisions right is the best way forward and we need as much available as we can to get the right decisions," he explained.
The modified version, which was unanimously approved by the ICC's chief executives' committee on the second day of its annual conference, will have Hot-Spot technology but not the Hawk Eye ball-tracker, which means that the LBW decisions would not be within the purview of the DRS.
The mandatory terms and conditions for the DRS that have now been recommended by ICC's CEC to the Executive Board for approval will now consist of "thermal imaging" and "sound technology". It has been agreed to remove the "ball tracker" from the ICC's original compulsory list of DRS technologies.
Hot Spot, the 'thermal imaging' technology now available and made mandatory in the DRS, will mostly be used for close catches and edges.
The BCCI agreed to the modified DRS after being opposed to the system since its very inception.
Sri Lanka's stand-in captain Thilina Kandamby echoed Cook's opinion.
"Personally I feel technology has to come in. I feel cricketers and umpires might make mistakes. We are all human, so it has to come in to a certain extent," Kandamby said.