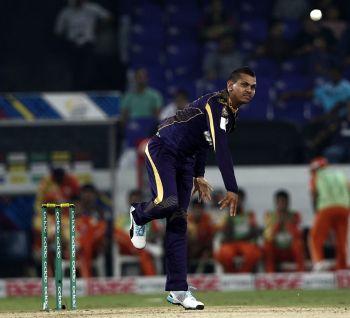 West Indies coach Stuart Williams said mystery spinner Sunil Narine, who has been reported for suspect bowling action during an Oppo Champions League Twenty20 match, will get over the episode in a positive manner.
"We haven't actually spoken to Sunil as yet. Sunil obviously is a champion. He is a strong character. Obviously the captain (Dwayne Bravo) is also playing for Chennai (Super Kings) so, we haven't sat down and spoken about it as yet. So we are still waiting for a couple of days to have a chat. I think he (Narine) will get over this in a positive way," Williams told reporters here.
The CLT20 organising committee had confirmed the development that on-field umpires Anil Chaudhary and Chettihody Shamshuddin along with third umpire Kumar Dharmasena had expressed their suspicion about the quicker delivery bowled by Narine in a match between his team Kolkata Knight Riders and Dolphins.
"Mr.Narine was reported by on-field umpires Anil Chaudhary and Chettithody Shamshuddin, along with third umpire Kumar Dharamsena at the conclusion of the match. The report specifically relates to the quicker ball bowled by Mr.Narine," according to a press statement issued.
"Under the CLT20 Suspected Illegal Bowling Action policy, Mr. Narine may request an Official Assessment from the BCCI Suspect Bowling Action Committee. Mr. Narine has been placed on the warning list and may continue to be selected to play and bowl for his team in a match," the release further stated.
Asked if more spinners are coming under the scanner for a suspected action, Williams said, "Well obviously the ICC have a mandate to govern the sport. We just have to embrace the changes."
Image: Sunil Narine
Photograph:BCCI