25-year-old pacer James Pattinson had figures of 3-29 from 12 overs.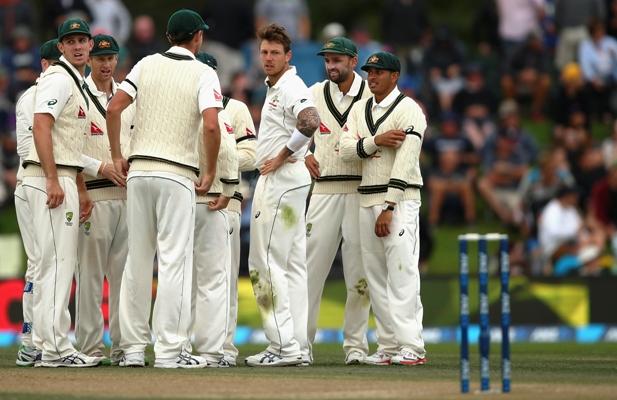 IMAGE: James Pattinson of Australia celebrates after taking the wicket of Henry Nicholls of New Zealand during day three of the Christchurch Test. Photograph: Ryan Pierse/Getty Images
James Pattinson grabbed three wickets to brighten Australia's prospects of a comprehensive victory in the second Test against New Zealand with the hosts reeling at 121 for four by the end of the third day on Monday.
Kane Williamson, 45 not out at the close of play at Hagley Oval, appears the last hope for the hosts with Corey Anderson on nine and New Zealand still needing another 14 runs to make the visitors bat again.
Australia, who were dismissed for 505 earlier on Monday for a 135-run lead, comprehensively won the first game of the two-match series in Wellington and only need to draw the second to seal the number one ranking in Test cricket.
Pattinson, who had Martin Guptill out for a duck before tea, also dismissed Tom Latham (39) and Henry Nicholls (two) after it as clouds, strong winds and cooling temperatures gave the Australians the perfect conditions to swing the ball.
The 25-year-old had figures of 3-29 from 12 overs.
Josh Hazlewood grabbed the other wicket when the retiring Brendon McCullum was brilliantly caught by David Warner at short mid-wicket for 25, a ball after he had belted his 107th Test six over square leg.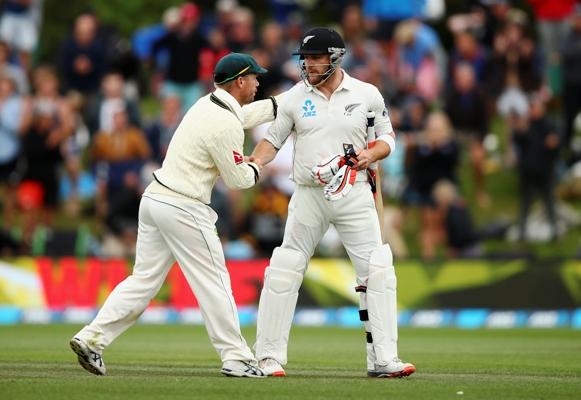 IMAGE: New Zealand's Brendon McCullum is congratulated by David Warner of Australia as he walks off the ground after his final Test innings. Photograph: Ryan Pierse/Getty Images
The 34-year-old McCullum, who scored the world's fastest Test century from 54 balls in the first innings, was given a standing ovation back to the pavilion.
He ends his career having scored 6,453 runs at an average of 38.64 with 12 centuries, 31 half centuries and a top score of 302, the only Test triple century by a New Zealander.
Latham and Williamson had steered New Zealand to 43 for one in their second innings at tea after the hosts had finally dismissed Australia about an hour after lunch when they took five wickets.
The visitors had gone to lunch at 455 for five before Neil Wagner added the wickets of Adam Voges (60) and Mitchell Marsh (18) to the two he took on Sunday.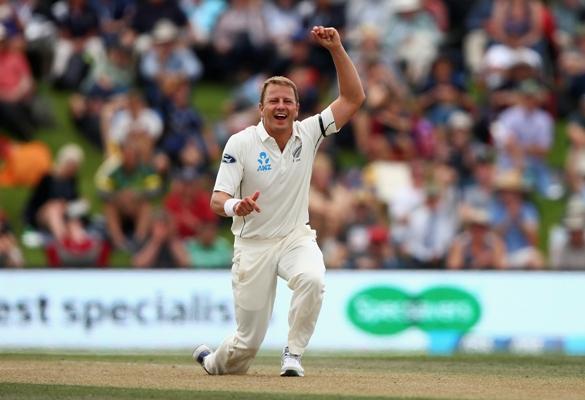 IMAGE: Neil Wagner of New Zealand celebrates after taking the wicket of Australia's Josh Hazlewood. Photograph: Ryan Pierse/Getty Images
Wagner then completed his second five-wicket haul when he had Peter Nevill caught by wicketkeeper BJ Watling for 13, and then Hazlewood caught at first slip by McCullum for the same score.
Wagner finished with career-best figures of six for 106.
Spectators at the venue observed a minute's silence at 1251 (2351 GMT) to commemorate the fifth anniversary of a devastating earthquake in Christchurch that killed 185 people.
New Zealand's only success in the first session was when nightwatchman Nathan Lyon was well caught low down at slip by McCullum from part-time spinner Williamson for 33.
Scorecard
New Zealand (1st innings): 370 (B. McCullum 145, C. Anderson 72, B. Watling 58)
Australia (1st innings): (Overnight: 363-4)
D. Warner c Guptill b Boult 12
J. Burns c Guptill b Wagner 170
U. Khawaja c B. McCullum b Boult 24
S. Smith c Guptill b Wagner 138
A. Voges c Latham b Wagner 60
N. Lyon c B. McCullum b Williamson 33
M. Marsh c Nicholls b Wagner 18
P. Nevill c Watling b Wagner 13
J. Pattinson c Boult b Anderson 1
J. Hazlewood c B. McCullum b Wagner 13
J. Bird not out 4
Extras: (b-9 lb-10) 19
Total: (all out, 153.1 overs) 505
Fall of wickets: 1-25 D. Warner, 2-67 U. Khawaja, 3-356 J. Burns, 4-357 S. Smith, 5-438 N. Lyon, 6-464 A. Voges, 7-483 M. Marsh, 8-484 J. Pattinson, 9-496 P. Nevill, 10-505 J. Hazlewood
Bowling: T. Southee 25-4-85-0, T. Boult 31-5-108-2, M. Henry 32-8-101-0, C. Anderson 22-2-66-1, N. Wagner 32.1-6-106-6, K. Williamson 7-0-17-1, B. McCullum 4-2-3-0.
New Zealand (2nd innings):
T. Latham c Nevill b Pattinson 39
M. Guptill c Nevill b Pattinson 0
K. Williamson not out 45
H. Nicholls c Smith b Pattinson 2
B. McCullum c Warner b Hazlewood 25
C. Anderson not out 9
Extras: (nb-1) 1
Total: (for 4 wickets, 44 overs) 121
Fall of wickets: 1-8 M. Guptill , 2-66 T. Latham, 3-72 H. Nicholls, 4-105 B. McCullum
To bat: B. Watling, N. Wagner, M. Henry, T. Southee, T. Boult
Bowling: J. Hazlewood 15-5-40-1, J. Pattinson 12-5-29-3, J. Bird 7-1-26-0, N. Lyon 2-0-8-0, M. Marsh 8-2-18-0(nb-1).