India most buzzed team in CWC while 'favourites' Australia fail to impress fans on Facebook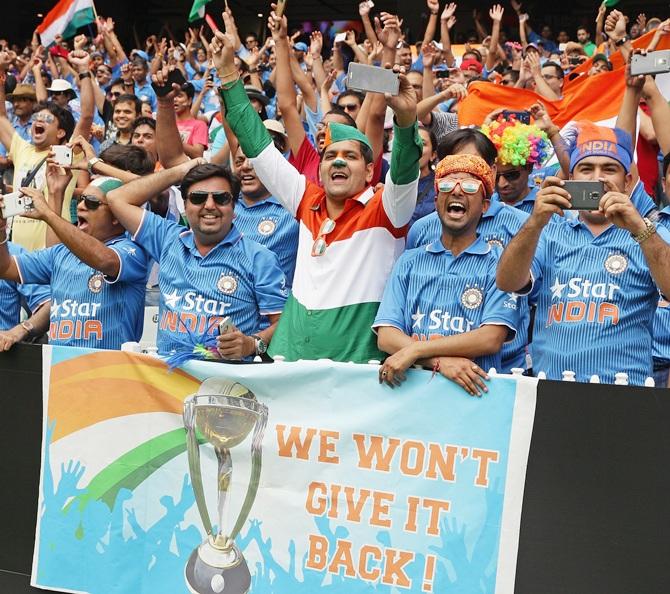 Supporters stand for the national anthems during the 2015 ICC Cricket World Cup match between South Africa and India at Melbourne Cricket Ground. Photograph: Scott Barbour/Getty Images
Australia might be the bookmakers' favourite to win the Cricket World Cup, but they have failed to impress people around the globe on social networking site Facebook, while Team India has emerged as the most buzzed team in the tournament.
- The World Cup, as never before on Rediff.com
- VOTE: Who will win the 2015 World Cup?
When it comes to global measurement on Facebook, Australia rates poorly, while India is the top contender. According to new figures, 36 million people have generated 341 million interactions between January 1 and February 28 on Facebook about the Cricket World Cup, and the Australians seem to be one of the least favourite teams people want to discuss about.
Moreover, in the most buzzed players, no Australian is there in the top 11, with South African superstar AB de Villiers being the top dog.
In Australia, 1.4 million people have had 5.4 million interactions about the World Cup so far.
The top five countries buzzing about world cup are:
1. India
2. Pakistan
3. Bangladesh
4. Australia
5. United States
The top 11 most buzzed about players are: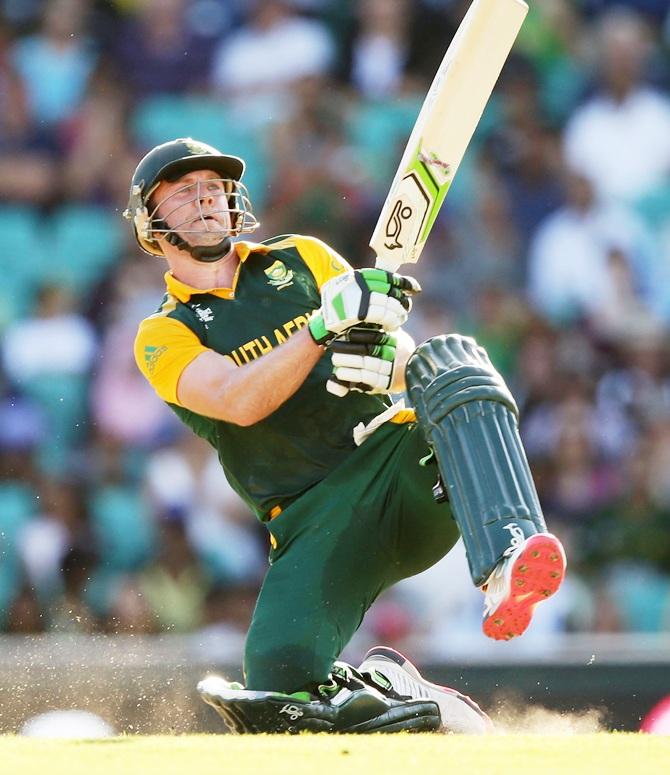 AB de Villiers of South Africa bats during the 2015 ICC Cricket World Cup match against the West Indies at the Sydney Cricket Ground. Photograph: Matt King/Getty Images
1. AB de Villiers (South Africa)
2. Virat Kohli (India)
3. Rohit Sharma (India)
4. Chris Gayle (West Indies)
5. MS Dhoni (India)
6. Shahid Afridi (Pakistan)
7. Sohail Khan (Pakistan)
8. Shakib al Hasan (Bangladesh)
9. Younis Khan (Pakistan)
10. Suresh Raina (India)
11. Shikhar Dhawan (India)
The Australians need points on the board after a 111-run opening win over England was followed by a no-result washout against Bangladesh and last weekend's thrilling one-wicket defeat by New Zealand in Auckland, the report added.
India only bookies' fourth favourite despite CWC heroics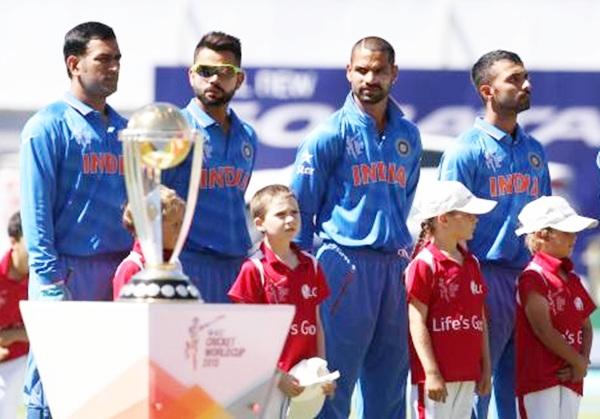 From left: Mahendra Singh Dhoni, Virat Kohli, Shikhar Dhawan and Ravindra Jadeja stand for the national anthem during the 2015 ICC Cricket World Cup. Photograph: Vipin Pawar/ Solaris Images
Despite their impressive run in the Cricket World Cup so far, India still are bookmakers' fourth favourite to win the title in March.
India have defeated Pakistan, South Africa and the United Arab Emirates (UAE) in their first three Pool B encounters in the World Cup and currently sit at the top of their group with 6 points. However, they remain the bookies' fourth favourite to defend their title.
Meanwhile, despite their loss to New Zealand at Eden Park on Saturday, Australia still remain clear bookmakers' favourites to win the 2015 Cricket World Cup.
New Zealand recorded a one-wicket win over Australia to reclaim the Chappell-Hadlee Trophy on Saturday, before a sellout of 40,053, but more significant silverware could be up next time the sides are seeded to meet, on March 29 in Melbourne.
A revised TAB market on Sunday had Australia as 2.85 dollars favourites to hoist the trophy at the MCG, with New Zealand at 3.50 dollars, South Africa 4 dollars, India 7 dollars and the rest rated next to no chance.
On current rankings, and assuming no quarterfinal upsets, unbeaten New Zealand would host South Africa back at Eden Park on March 24 in the first semifinal and Australia would host India in Sydney.
Ireland, Zimbabwe and Pakistan all remain in the mix as New Zealand's likely quarterfinal foes from pool B.
As seen on Saturday in a staggering 55.3 overs where 19 wickets tumbled and 303 runs were scored, the sides with quality fast swing bowlers and batsmen with cool heads would be leading contenders, the report added.
Are you watching the World Cup? Please share your videos, photos and comments here