Chennai Super Kings skipper Mahendra Singh Dhoni believes that crucial 28-run knock by Trinidad and Tobago's Kevon Cooper hurt them badly as they face exit from the Champions League Twenty20 after losing Sunday's match.
T&T had scored 74 runs from 15 overs while batting first but managed to put 123 for eight on the board as Cooper batted extremely well towards the end.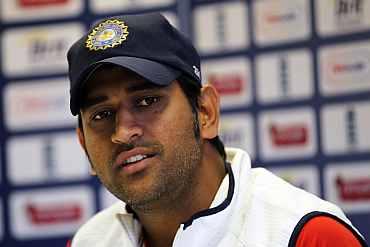 Chennai lost the match by 12 runs after scoring 111 for six from their 20 overs. Dhoni said he expected T&T  to score 110 but Cooper's knock made the target tough for them. 
"I was looking to chase 110 odd runs. I knew even if they get a few good overs, I expected 110 runs but those extra 10 runs (that Cooper got) really helped them," Dhoni said after the match. 
Dhoni said getting the strokes was difficult as wicket was not tough. 
"It became really difficult to rotate strike. They bowled in good areas. The ball was getting muddy and it was difficult to pick with their action," he said. The CSK skipper though was still hopeful for qualifying for the semifinals. 
"We need to beat the next time, we're playing the last game so if everything goes our way we'll know what we need to do," he said. T&T skipper Daren Ganga was pleased to post a win as they had lost earlier two matches from winning positions. 
"Always good to get a win. Tough luck to Chennai. I'm sure people back home will be pleased," he said. As his team also stand a chance to make the semifinals, Ganga was determined to win their last match on Tuesday and leave rest on fate. 
"We have one important game against Cape Cobras. We have to win and win big. That is all we can do and let everything take care of itself," he said.