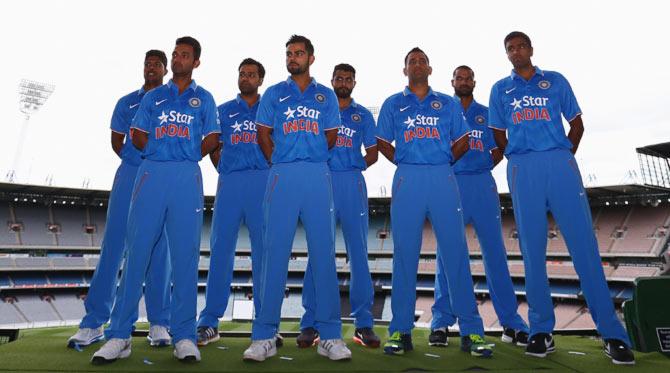 The Indian players pose for photographs during the unveiling of the Team India ODI jersey. Photograph: Robert Cianflone/Getty Images
Jolted by the loss to Australia in their opening match, India will look to plug its bowling loopholes and ensure a stronger batting display when they take on England in their second ODI tri-series match in Brisbane on Tuesday.
- Meet India's 15-member World Cup squad
Both sides will be looking to register their first victory in the tournament, the hosts having stolen a march on them with two successive wins.
Australia beat England by three wickets in Sydney on Friday and then beat India by four wickets in Melbourne on Sunday.
They took a bonus point from the first game as well and sit pretty on nine points from two games.
In this series, billed as a dress rehearsal for the upcoming ODI World Cup, both England and India will be keen to get a victory under their belt.
- Schedule: ICC Cricket World Cup 2015
India can take solace from their match against Australia in the sense that they pushed the hosts a lot closer.
By their own admission, the Australian batsmen were going for that bonus point against England and thus lost quick wickets in the middle order. The repeated mini-collapse against the Indian bowling was no such fluke.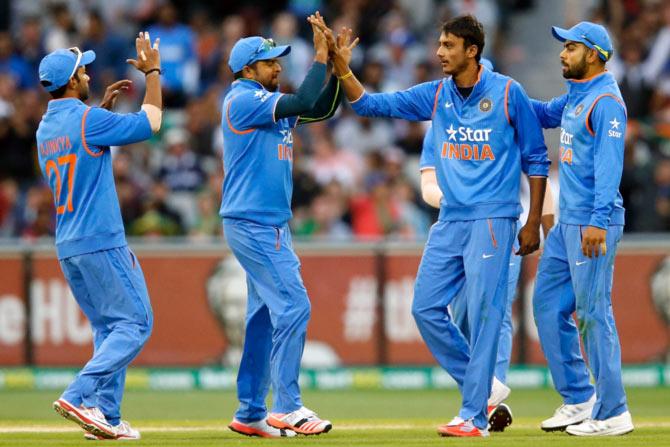 Axar Patel (2nd right) celebrates with team mates after taking a wicket during the ODI match against Australia in Melbourne. Photograph: Darrian Traynor/Getty Images
Bhuvneshwar Kumar and Axar Patel played a key role in squeezing the run-rate. It was quite a positive for the Indian team, reeling under the inconsistency shown by their attack in the preceding Test series.
They missed the medium-pacer in the first three Tests and when he returned in Sydney, he was way off-colour, down on pace and lacking in match fitness.
A five-day rest since and lot more bowling in the nets has done him good. Sunday's performance should be another boost for him to return to form for the Men in Blue need him to work his magic with the new ball in the next two months.
In only his first international outing in Australia, young left-arm spinner Axar impressed with his control as skipper Mahendra Singh Dhoni even opted to hold back a few of his overs and bring him back later during the end overs of the chase.
Later the Indian skipper even talked about the possibility of Axar becoming his prime choice in the death overs if he persists with this same consistency in his bowling.
That was a big vote of confidence in the youngster's abilities. Even so, the underlying word here is consistency which is a certain weak-point with India's bowling in recent times.
This is where Tuesday's game assumes significance. Coming quickly on the heels of their Sunday outing, India's bowlers – in particular Kumar and Axar – will be under the spotlight.
A similar bowling performance will be expected from the duo and if they are able to deliver on their promise, then it will be a huge step forward for this attack as Ravichandran Ashwin had an off-day in Melbourne.
Dhoni will also be looking for consistency from Rohit Sharma. He batted with much calm amid wickets falling at the other end and looked keen to make his start count.
More importantly, he was prepared to run hard between the wickets and rotate the strike, a trait previously missing in his batting in overseas ODIs last year. If he continues to do the same, then the debate over his opening position in favour of Ajinkya Rahane will be a thing of the past.
However, that topic could restart at the other end if Shikhar Dhawan too doesn't start scoring. It is too early to comment on his failure in Melbourne.
But with a new-look batting order, with Rahane at three and Virat Kohli at four, they need to click in unison to take pressure off the middle order, especially with Dhoni coming in at number six.
In the absence of Ravindra Jadeja, the onus of big-hitting in the end overs lies squarely on the skipper's broad shoulders. Early wickets for few runs, as in Melbourne, won't help his case and also won't make the five-bowler strategy work.
In the last couple of years, India's ODI record against England has been quite good. Since the 2011 tour when they didn't win a single game, the Men in Blue have recorded 12 wins in 15 matches, four of them coming in England (one in 2013 and three in 2014).
The rest have all come in sub-continental conditions. Yet Dhoni and his players will be quietly confident of taking on a team under new captaincy.
And that is the big question mark for England as they prepare for the World Cup. They have made the right call in leaving Alastair Cook out of their plans and instead picking Eoin Morgan to lead. However, they might have left him too little time to introduce some new plans and experiment with his strategies.
England called upon the services of their former star all-rounder Andrew Flintoff during the net-session in Brisbane on Monday, in the hope of garnering some confidence and motivation from the Big Bash player.
Obviously enough, they have opted to not give a call for help to Kevin Pietersen, who is also in the country to play the T20 league. And so, it remains to be seen what effect Flintoff's words will have on their Tuesday performance.
Teams (from):
India: Mahendra Singh Dhoni (c & wk), Shikhar Dhawan, Ajinkya Rahane, Rohit Sharma, Virat Kohli, Ambati Rayudu, Suresh Raina, Stuart Binny, Axar Patel, R Ashwin, Ravindra Jadeja, Ishant Sharma, Bhuvneshwar Kumar, Mohammad Shami, Umesh Yadav, Dhawal Kulkarni, Mohit Sharma.
England: Eoin Morgan (c), Moeen Ali, James Anderson, Gary Ballance, Ian Bell, Ravi Bopara, Stuart Broad, Jos Buttler, Steven Finn, Alex Hales, Chris Jordan, Joe Root, James Taylor, James Tredwell, Chris Woakes.
Match starts: 8.50 IST.