'Let's get one thing straight. The final decision maker is the CAC and not Virat Kohli.'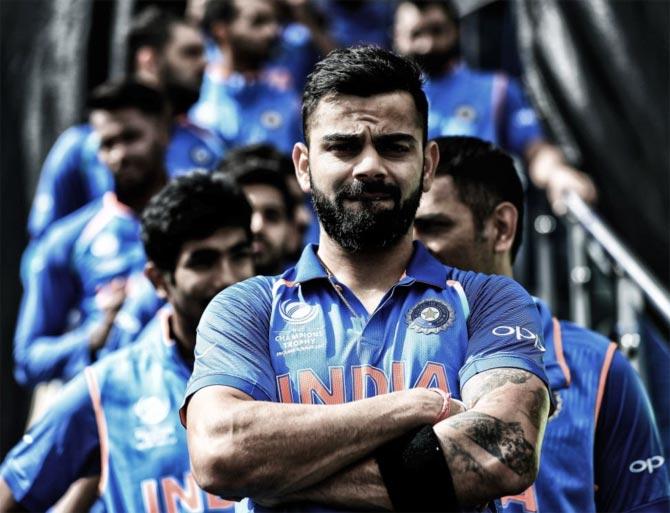 IMAGE: India captain Virat Kohli. Photograph courtesy: BCCI/Twitter
The Board of Control for Cricket in India's Cricket Advisory Committee (CAC) will certainly speak to Virat Kohli before announcing the new chief coach but they will only explain the 'rationale' behind their decision and not seek his opinion on the matter.

The CAC comprising of Sourav Ganguly, VVS Laxman and Sachin Tendulkar on Monday interviewed five candidates -- Virender Sehwag, Ravi Shastri, Tom Moody, Richard Pybus and Lalchand Rajput-- for the job, which fell vacant after Anil Kumble's acrimonious departure.

It is learnt that each interview went for about an hour and the candidates were asked a particular set of questions.

"Let's get one thing straight. The final decision maker is the CAC and not Virat Kohli. When Sourav said that he will speak to Virat, he meant that once he is back from a break, he will be told what CAC feels about each candidate that they interviewed and why they are choosing a particular candidate," a senior BCCI official, privy to the development said.

"Virat's opinion will not be sought. But as a captain, he needs to know the rationale behind the appointment. So he will be kept in the loop," the official said.

Recently, the BCCI has received a lot of flak due to the perception that skipper Kohli is becoming too powerful where he will have a final say even regarding the choice of a coach.

The captains over the years have had a say in coach selection but it has always been the Board which takes the final call in the matter.

While the BCCI wants to ensure that India's 2019 World Cup preparation is not derailed, they would also not want to give absolute powers in the hands of the captain.

It was learnt that three best presentations on the day were made by Richard Pybus, Tom Moody and Ravi Shastri.

"Some of the presentations were excellent. Pybus and Moody in particular were really well prepared with answers for tough questions. Ravi and Viru (Sehwag) also gave elaborate answers on some of tricky issues. There were two basic questions that every candidate was asked," the source informed.

"The first was their vision going into 2019 World Cup in England and secondly the role of a coach compared to the captain. They were asked how would they handle delicate situations as and when it arises," he said.

While Kumble's name was not taken, it was an obvious reference to the Kohli-Kumble issue and how such a prickly situation will be handled by the new man-in-charge.

"Obviously, the coach-captain relationship is one aspect where all five candidates were grilled. The three CAC members all took turns to ask some tough but relevant questions to check their preparedness. What was impressive to find out was that everyone seemed keen to get the job which reflected in their performance," he said.