Virender Sehwag was one of the most destructive batsmen of the modern day era. Team mate Harbhajan Singh believes few batsmen have dominated bowlers like the 'Nawab of Najafgarh' and even compares him to the great West Indian Viv Richards.
As Sehwag called time on his international career, Harbhajan recalls the memories of playing alongside the swashbuckling right-hander, whom he met a long time ago during the Under-16 days and has been good friends since then.
Harbhajan spoke to Harish Kotian/Rediff.com on Viru's contribution to Indian cricket and why he believes there will never be another one like him.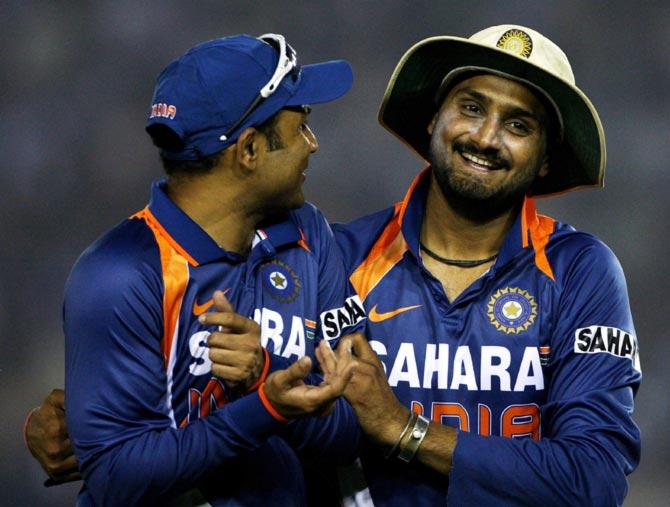 IMAGE: Virender Sehwag (left) and Harbhajan Singh share a laugh during an ODI against Australia in Mohali in November 2009. Photograph: Mark Kolbe/Getty Images
"Viru is the Viv Richards of the modern era.
The bowlers used to be scared when bowling to him. Normally, it is the other way around, the batsmen are scared when facing a particular bowler but in Viru's case, the bowlers used to be nervous.
- I'm an entertainer, says run-machine Sehwag
I would say he was the only batsman I have seen dominating the way he did against the best fast bowlers in the world on the most difficult of wickets. The kind of shots he had, he could hit to every part of the ground.
I met Viru for the first time during the Under-16 days I guess. He was always a dangerous player, he was very good player of spin bowling even in those days.
And when he started opening for India, he improved his batting against fast bowling also.
His hand-eye co-ordination made him special. His shots behind point, his cuts shots were flawless, he could find the gaps anytime, his batting was just unbelievable. He could destroy any bowling attack when in full flow.
I told him many times that I am lucky that we are both in the same team. And today also when we spoke after his retirement, he told me 'thank you for everything'. I told him 'I should thank you for being in the same team as me', because otherwise who knows how much we would have suffered.
Viru was an upfront guy. He was very direct and if he said something he would definitely do it. Like if he said before the start of the innings that he would hit a boundary off the very first delivery, he would go out and do it.
I remember we were playing an IPL [Indian Premier League] match and I was bowling to him. The first ball was hit towards mid-off for two runs and the next was hit for a boundary. Then he tried another big shot but I bowled on his pads and he could not get a run. He took a single from the fifth ball and crossed over when I asked 'what are you doing Viru? You are trying to hit every delivery'. He replied 'I have played you for so long, in the nets and all, and I know your bowling so well, how can I defend against you?'
He used to tell me that everyone is scared out there in the middle. The bowlers are scared of me and I am scared of the bowlers as well. But the key thing is who strikes the first blow and that is why he used to go hard at the start of his innings.
I don't think we will ever a batsmen like him especially in Test cricket. So many times, he has completed his hundred in the first session before lunch. That straightaway put us in the driver's seat right from the start and if you check the records, I think whenever he has played a big innings we have won. He used to put us in such a strong position that the opposition would find it difficult to make a comeback. The number of runs other batsmen used to score in two sessions, you would score in one session.
I think very few batsmen had the ability that Viru possessed, if you see today, I think AB de Villiers has the same qualities. When you bowl to such batsmen, say in the nets, you also develop as a bowler so definitely having him in the team also helped us.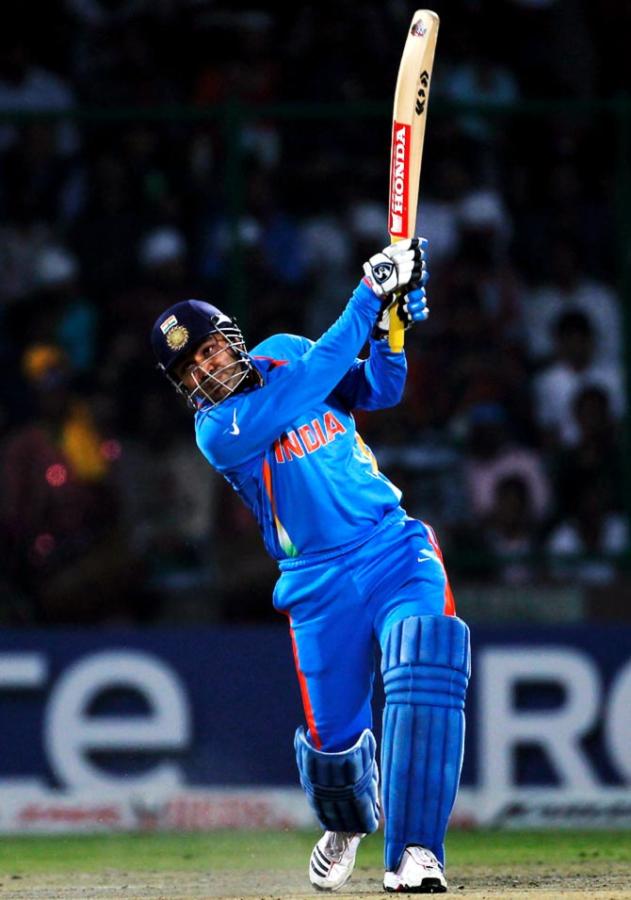 Viru's mindset only had one thing - to attack from the first ball itself. If the ball was in his area, then he went for it, he never let get any scoring opportunity go.
My favourite Viru innings is his 293 in the Test match against Sri Lanka at the Brabourne stadium in 2009. That was an unbelievable innings. He was actually setting fields for Muttiah Muralitharan. He was such a great bowler but Sehwag was hitting him around at his own will. If there was no fielder behind point he would hit him there, if there was no fielder at deep midwicket he would hit him there, so he was finding gaps at will. That was dominating batting at it's best and I don't think I have seen any innings like that in Test cricket.
Even the innings in Melbourne he played against Australia [in 2003] when he scored 195 on the first day, that was something special too. And when he went out to open for the first time, at Lords, he made 84 on a very difficult wicket. So those three innings, played in different conditions, would rank as my three favourite innings of Viru.
The Brabourne one was played on a turning track, while in Melbourne the pitch was fast and bouncy while the Lord's wicket was a seaming track. So batting was not easy on the three pitches but yet Viru was able to come out on top.
I don't know if we will ever get anyone like Viru, someone who can be so destructive like him. It will be very difficult to find another Viru, who can bat like him and also play big knocks like he has done.
He was very casual, kept things simple and was very nice to talk to off the field as well. He was very clear in his approach, about what he has to do and how he wants to do it.
I will miss a great friend on the field but I am sure we will definitely keep meeting regularly.
I will cherish all the memories and the entertainment he has provided for last so many years."