Real estate billionaire Sameer Nerurkar salutes batting icon Sachin Tendulkar ahead of his landmark 200th and final Test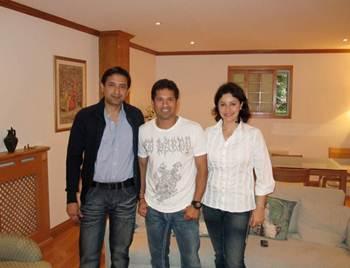 I don't think I can single myself out as a fan of Sachin Tendulkar. I am sure every Indian is his fan. I have been his fan since he stepped out on the pitch to play for India long ago against Pakistan.
Time is always a constraint, but I try and watch Sachin every time I get a chance and the time.
The Indian Premier League has really made things good for those who have less time. Like a good movie, it plays out in limited time and we can sit and watch it.
Sachin has been entertaining the entire nation since his early days and I too have been enjoying watching him on the field.
Besides Sachin's batting, I like his bowling too. He concentrates totally on the game and is always alert on the field. He is a thinking bowler. Moreover, I think the batsmen get intimidated by the fact that he is Sachin Tendulkar.
He has been asked to bowl the last over in a one-day match when the opponent needs six runs. That is the ultimate test for a bowler. And everyone knows him for his batting prowess!
I have known him for the last five years. One of our directors, Alan Sippy, is an ex-cricketer and played with Sachin in the Ranji trophy. That is how I got a chance to meet him.
Sachin wanted a place in Alibaug and he bought a plot from us. He liked what we were doing there and later bought a small stake in our company. Since then he and his wife Anjali have been dear friends.
He is a good golf player too. I have been planning a golf tournament for long with him, but he hasn't had the time. Now I think he will have more time, so I will get a chance to organize it.
I will watch the Mumbai match in the stadium and the one in Kolkata on television. I know I can fly to Kolkata to watch the match, but that would be depriving another fan of the opportunity.
Sameer Nerurkar, Managing Director, Sameera Habitats, in Alibaug, spoke with Ganesh A Nadar.
Image: Sameer Nerurkar with Sachin Tendulkar and wife Anjali