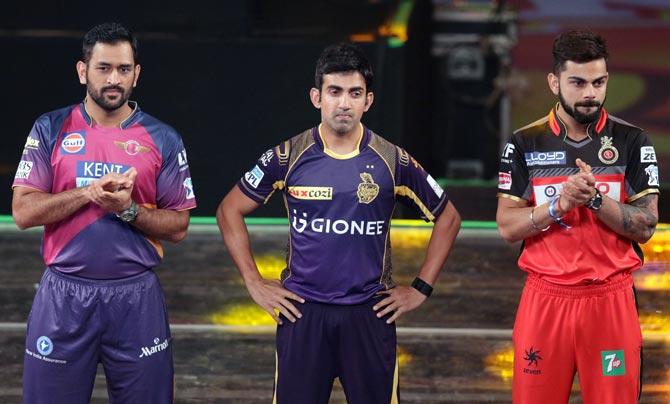 IMAGE: Rising Pune Supergiants captain Mahendra Singh Dhoni, Kolkata Knight Riders skipper Gautam Gambhir and Royal Challengers Bangalore captain Virat Kohli.Photograph: BCCI.
In a bid to maintain transparency and fairness in awarding the lucrative IPL media rights, the BCCI has told Sony Max to join the bidding process with other interested bidders.
Sony Max had the TV rights since IPL's inception year in 2008. According to reliable information, BCCI's negotiation period with Sony Max came to an end on July 28.
There is a market projection that the new IPL TV rights will be fetching close to USD 4 billion and the Board wants the process of "next rights period" to be conducted in a transparent manner.
According to highly placed sources, the BCCI has already made a final written offer that states "media rights for 'next rights period' through Open Tender that enables price discovery in a fair and transparent manner".
While BCCI has had differences with regards to structural reforms as per Lodha Panel Recommendations, it is in complete agreement with panel's observation that a transparent procedure should be followed.
The letter sent by BCCI also states that despite "numerous discussions with Sony Max on subject of terms and conditions for "Next Rights Period" under agreement dated June 25, 2010, we have been unable to reach an agreement".
A senior BCCI source said: "We at BCCI would like to maintain high standard of transparency and Open Tender is the best way forward to maintain that standard".
When PTI contacted BCCI president Anurag Thakur, he said: "I can't comment at this point of time but BCCI is happy with Sony Max's performance and we would have complete fairness and transparency in tender process for broadcast rights".
One of the representatives of prospective bidders told PTI that Open Tender is the way forward.
"At this stage they are wiser and don't want to do anything which dents the overall good work of the BCCI," the industry insider said.