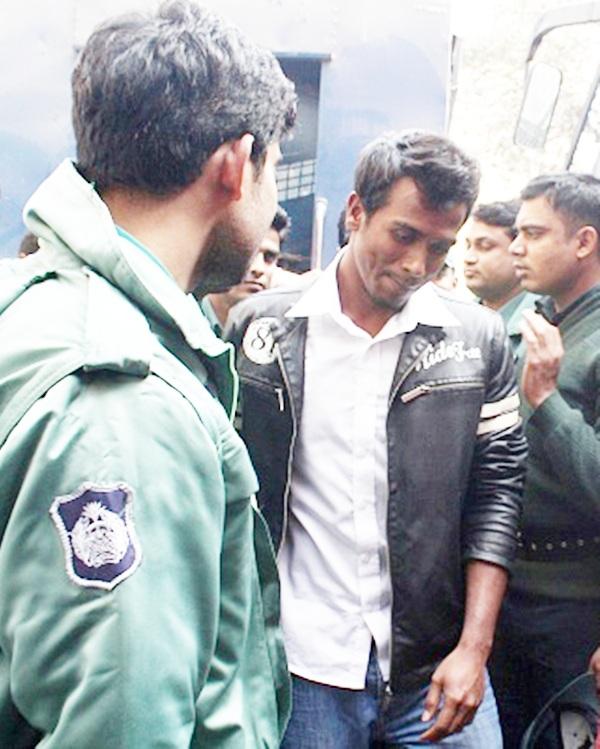 IMAGE: Bangladesh's Rubel Hossain, centre. Photograph: PTI
Bangladeshi cricketer Mohammad Rubel Hossain has been temporarily excluded from the new central contract for not following injury rehabilitation guidelines.
"Everyone but Rubel in the previous contract stays (in the new contract). He has not followed the injury rehabilitation guidelines he was given," Bangladesh Cricket Board (BCB) president Nazmul Hassan was quoted as saying in bdnews24.com.
The 26-year-old cricketer was axed from all international matches in July last year due to injury. The pacer suffered an injury again while playing a match in India in September. He recovered and played six matches for Sylhet Superstars in the Bangladesh Premier League (BPL) and has been out since December.
"No one has been selected in his place. He will be able to get in the (central) contract if he can come up with a satisfactory reply. Otherwise he will be dropped," Hassan said.
Last year, Rubel was put on custody for three days when he was arrested by Bangladeshi police following rape charges filed against him by heroine Nazneen Akhtar.
He was later granted bail by the court to participate in the 2015 Cricket World Cup and was eventually set free when Nazneen withdrew her charges following Bangladesh's victory over England.