'We could not capture the crucial moments'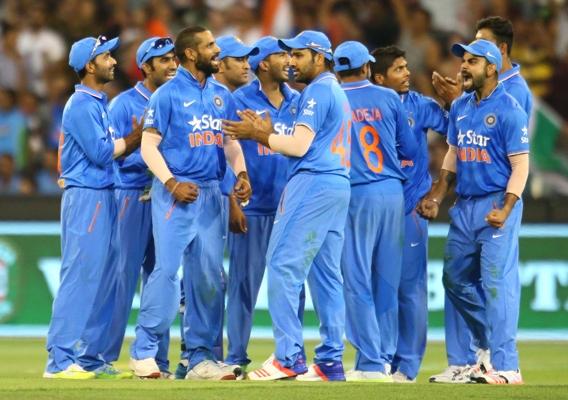 IMAGE: Indian team celebrates a wicket in the ODI series against Australia. Photograph: Scott Barbour/Getty Images
Rohit Sharma is delighted to win the Man of the Series award for his whopping 441 runs in the just-concluded One-day International series against Australia but the stylish right-hander rued the fact that his team 'could not capture crucial moments', which led to their 1-4 defeat.
"We did a lot of things right but we could not capture those crucial little moments which we should have turned in our favour. It was a little disappointing. Had we grabbed those moments with both hands, the result could have beencompletely opposite. It is great that I scored maximum number of runs but 1-4 is not what we expected," Rohit told bcci.tv after the end of the series.
On a personal note, Rohit is happy that he has had a good series after a not so great Test series against South Africa and this will keep him in a positive frame of mind ahead of the T20 series starting Tuesday in Adelaide.

"There is a lot to take from this series. The form which I was in before this series, I did not have a great Test match.

I wanted to do well. I have played here quite a bit. I completely understand the nature of wickets. I kept my game-plan simple and focussed on basics to get results," Rohit said.
"We played some really good cricket. In Australia, if one can tackle the initial movement, you can score big. I can't see the reason why this team can't be a great ODI team. We won the last game and that would give us a head start in the T20 series," Rohit said.
"Manish Pandey meant business and showed positive intentfrom the start. To bat like that in pressure situation, fullcredit to him. Specially in Australia, where you can't just hit sixes regularly. But Pandey was there along with an experienced campaigner like Mahendra Singh Dhoni. In the end, we got theresult we wanted," Rohit said.