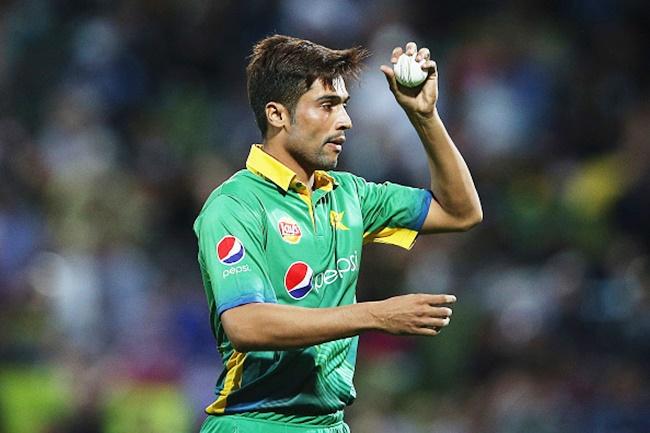 IMAGE: Mohammed Aamir of Pakistan prepares to bowl. Photograph: Hannah Peters/Getty Images
Pakistan coach Waqar Younis has termed Mohammed Aamir's performance against India as 'outstanding' but at the same time said his sufferings in the last five years after being convicted for spot-fixing has been his own fault for which no one should feel bad.
"It was his fault and one shouldn't cry on that. He (Aamir) is definitely world class and is getting better and stronger with every match. Virat Kohli has acknowledged that he is world class. He is an inspiration for young fast bowlers. The length at which he especially bowled against India on Saturday and swung the ball at that pace was simply outstanding," Waqar said about the 'Enfant Terrible' of Pakistan cricket.
Indian captain Mahendra Singh Dhoni conceded that Aamir's length was the key.
"It was a great spell by Aamir. His advantage was he bowled full. In this Pakistan team Aamir and Mohammed Sami are the two bowlers who bowl a fuller length while the other two (Mohammed Irfan and Wahab Riaz) don't bowl too full and also don't swing much. But with quota of only four overs, captain is also under so much pressure," Dhoni said.