'Counter-attacking is the game I play, that's why I bat at No 3 but sometimes you have to respect the conditions'
'I would like to complement Mohammad Aamir for the way he bowled. I actually congratulated him while he was bowling'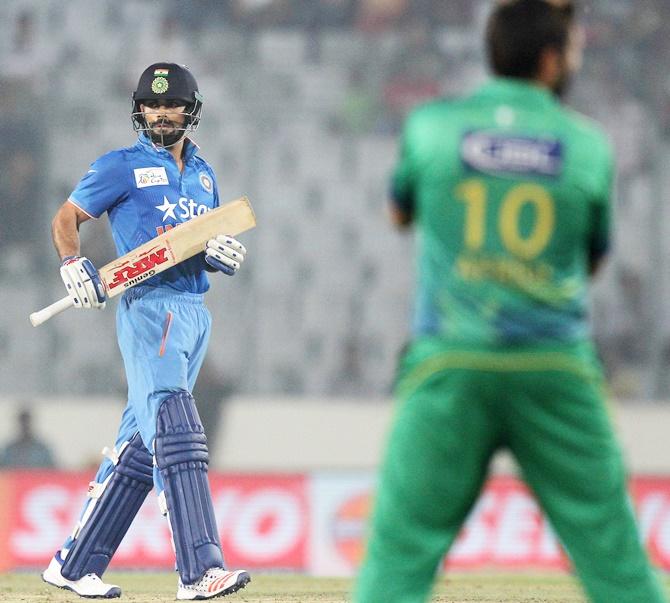 IMAGE: India's Virat Kohli looks on during the Asia Cup match against Pakistan. Photographer: Solaris Images
After steering India to a crucial victory in an Asia Cup match against Pakistan, Virat Kohli extolled comeback fast bowler Mohammed Aamir for his ferocious opening spell, in Mirpur, on Saturday.
Asia Cup PIX: Kohli steers India to victory after Aamir's fiery spell
Kohli scored 49 in a tricky chase of 84 after Aamir had reduced India to eight for three inside third over.
"I would like to complement Mohammad Aamir for the way he bowled. I actually congratulated him while he was bowling. It was so happy to play such an amazing spell. He is a world class bowler," Kohli said.
Kohli said the conditions were tough for batting and he was determined to rectify the mistakes he committed in the Bangladesh match.
"It wasn't an easy wicket to bat on, I wasn't too happy with myself in the last game, where I went too hard at the ball, wanting to continue the way I played in Australia. I had to respect the conditions, I made mistakes in the last innings but I dug in this time."
Asked about his batting style, Kohli said, "Even if it is a defensive shot, the intent is positive. Counter-attacking is the game I play, that's why I bat at No 3 but sometimes you have to respect the conditions and play that way.
"It is very important to be able to change your shot at the last moment in such conditions. You need to be switched on mentally, stay calm and relaxed, cant; hit every ball out of park."
Indian captain Mahendra Singh Dhoni said they had though that Asia Cup would be a tournament for practice ahead of T20 World Cup but it was turning out to be a tough assignment due to conditions.
"We are a team that loves to play aggressive cricket but this pushes us to respect the conditions which will be good going into the WT20. I'm glad we restricted them to 83 runs, 100 or 110 runs and the game was on," Dhoni said.
"The fast bowlers did well but even after that we took wickets at regular intervals which is crucial to stop runs in this format. We have to be switched on in the field, that is one department where you can guarantee performance, one run out can take the game away from the opposition," the Indian captain added.
Pakistan captain Shahid Afridi rued that his batsmen did not bat according to the situation.
"We have played so much cricket, we should have read the pitch. We did not play according to the pitch; When we lose 4-5 batsmen in the first six overs we can't score 140. We had to read the situation, just like Kohli and Yuvi (Yuvraj Singh) did it for India," he said.
"It was not 160 pitch, had we had survived the fast bowlers there wasn't much turn on the pitch for their spinners. We could have managed 7-8 runs in an over," he said.