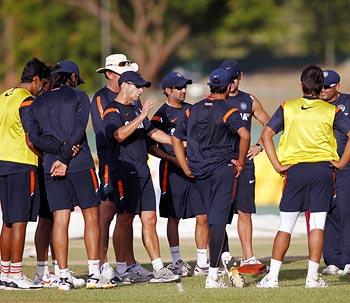 With just eight months to go for next year's World Cup, time is ripe for the youngsters to impress the selectors but there still seems an attitude problems with players such as Pragyan Ojha and Saurabh Tiwary.
Though the nucleus of Team India for the 2011 World Cup has more or less been determined, the selectors are now faced with the challenge of picking role-specific players for the remainder of the slots.
While it presents the youngsters with an opportunity to work harder to stake their claim, the lackadaisical attitude of Ojha and Tiwary during the Asia Cup match between India and Bangladesh on Wednesday left much to be desired.
Ashok Dinda, Ravichandran Ashwin, Ojha and Tiwary were given a work schedule during the lunch recess. While Dinda and Ashwin stretched their sinews to complete their assignment of doing six laps of the Rangiri Dambulla International cricket Stadium, Ojha and Tiwary were noticeably reluctant.
Team trainer Ramji Srinivasan, entrusted with the onerous task of keeping the players fit as a fiddle, had to virtually push them to complete their drills. An aghast media watched the stubborn twosome being publicly cajoled by Srinivasan.
This isn't the first occasion when Ojha has been hauled up by the team management. He had been ticked off by former India fielding coach Robin Singh during the series against New Zealand in the antipodes.
The left-arm spinner has been a reluctant participant in training and fielding drills, merely watching his team-mates slog it out under the sun while he remained in the comfort of the sidelines.
Given an Indian call-up through the Indian Premier League (IPL) route than through performance in the domestic circuit, Tiwary was expected to bend his back to gain fitness for stiffer international assignments.
On the contrary, the muscular lad from Jharkhand, who was given the privilege to substitute for Ashish Nehra as he was presumed to be the fittest among the reserves, just didn't seem to appreciate the opportunity.
Photograph: Reuters