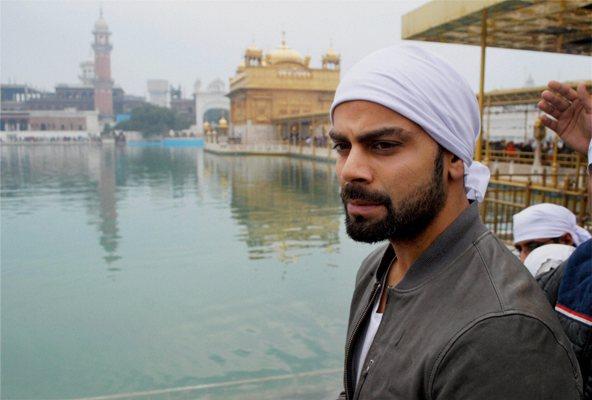 IMAGE: Virat Kohli paying obeisance at Golden Temple in Amritsar. Photograph: PTI
Virat Kohli is happy that to have got a three-week break from the game post the Australia tour.
"It was a good break after a long time. I got time to get away from the game. Rest was important as I was playing non-stop cricket.
"Every cricketer's workload is assessed differently. If I play five games and if I don't make runs then my workload will not be that much compared to someone else.
"So, taking all these things into consideration, the physio and everyone felt that I should take a break because in the Asia Cup and World T20, we have to play with full intensity.
"It's an important phase, so it was good, little bit of training, rest, spending time at home, it was a good break all in all."
'Every team is dangerous in T20'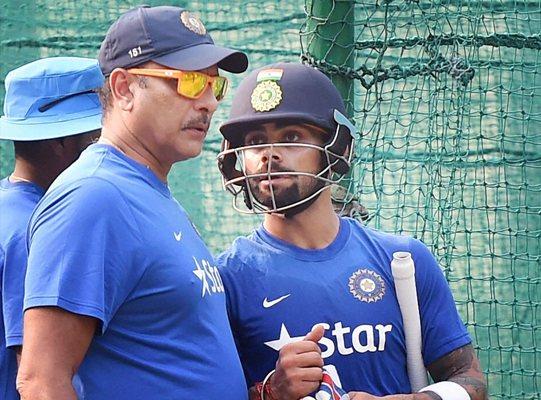 IMAGE: India team director Ravi Shastri with Virat Kohli during a practice session. Photograph: PTI
Kohli also feels that in a tournament like next month's World T20, it is very difficult to just focus on two or three particular teams as it can upset the gameplan.
"Every team is dangerous in T20. On a particular day, we are not looking at any team as major threat. We will take the challenge very similarly be it any team from around the world, that's the way we need to approach a tournament like the World Cup.
"If you focus on two or three teams too much, then one tends to lose focus on the rest. Every game counts in this format. Things can change very quickly, momentum is a big factor.
"Both India and Bangladesh are very strong but we are not focusing on strengths of the opposition too much because we need to back our strengths than find out the weaknesses in the opposition to win matches."