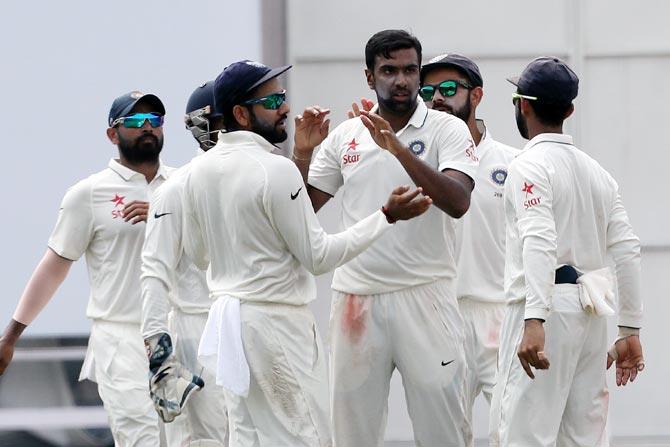 IMAGE: Ravichandran Ashwin, centre, celebrates with team mates after taking the wicket of Tom Latham. Photograph: BCCI.
A superb six-wicket effort from Ravichandran Ashwin saw India maintain their stranglehold on New Zealand and remain firmly on course for a 3-0 series whitewash in the final Test match in Indore on Monday.
PHOTOS: Ashwin's six gives India a huge lead
Asked about the strategy when the New Zealand openers Martin Guptill and Tom Latham put on a century stand, Ashwin said it was to contain the run-flow first and create pressure.
"Our plan was very simple — not to give the runs, and the more boundaries we cut, the better it would be. We also thought this outfield is very quick, so the boundaries go very fast. That happened in the first session, and Latham and Guptill batted very well.
"We thought we would try and reduce the run rate and try and create some pressure in terms of maiden overs. That was the plan. Obviously, that was a good spell I got after lunch, I got going and then things changed."
Ashwin also defended India's strategy of not enforcing the follow on, saying both he and Jadeja were tired after bowling long spells.
"Because Jaddu and I had bowled almost 30 overs each and so it was very difficult to enforce the follow and so we had to bat. There is more time in the game, so it made sense to bat on," he explained.
He also said that the wicket sported more roughs on the side opposite to the pavilion.
"It's turning more bowling from the pavilion end, because there's more rough, because of the left-arm fast bowler's footmarks. That's not spinning a lot, hopefully it will deteriorate," said the off-spinner who took all his wickets by bowling from the pavilion end and so too did Jadeja.
He also praised coach Anil Kumble's inputs right through the series during matches.
"We have good discussions on cricket, good discussions on what we could be doing for different batsmen. He gives different plans about how we can change up when we go into lunch or tea. If somebody is batting well, he gives you different ideas about what fields you can have, how differently I can throw the ball wide into Tom Latham, for instance, at Eden (Gardens).
"It was Anil Kumble's idea in the tea break. He was the one who asked me to push the lines wider and see how it goes, and it worked. He's also a person I can go to and talk to and take feedbacks. I enjoy the conversations I have with him."