Should India bolster its batting by including Rohit Sharma at No 6?
Pick India's playing XI for the first Test.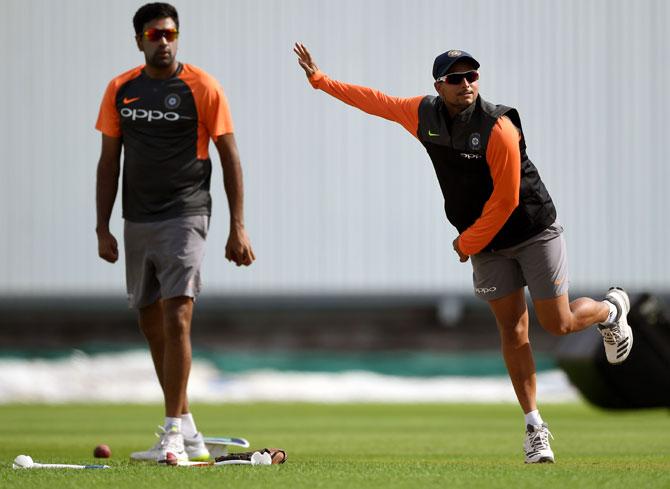 In the absence of the fearsome Australian batting combo of Steve Smith and David Warner -- both men have been banned from international cricket for a year for their roles in the ball tampering controversy against South Africa in March -- this could be India's best chance to win its first-ever Test series in Australia.
Virat Kohli and his team nurtured similar expectations of winning the series in England in August, only to lose 1-4.
The World's No 1 Test side have a reputation of being poor travellers: Mighty at home, minnows overseas. India lost both overseas tours in 2018, going down 1-2 to South Africa before being overwhelmed by an underwhelming English side.
What is encouraging for Captain Kohli and Head Coach Ravi Shastri will be the performance of the Indian bowlers in 2018. The bowlers have been excellent, picking up all 20 wickets in 9 out of the 11 Tests they played this year.
The Indian batting -- barring magnificent Kohli -- is a pathetic tale. The four Tests that India lost in England, the batsmen managed just one score of 300 plus in 8 innings. The only Test the Indians won in that series, they posted in excess of 300 in both innings.
If India gets its batting right, then they have the bowling resources to win away from home.
Prithvi Shaw's injury has jolted the team management; the teenage in-form opener has been ruled out of the first Test after suffering an ankle injury during the tour game against Cricket Australia XI on Friday, November 30.
K L Rahul came in for flak after a poor shot saw him throw his wicket away in the first innings of the tour game. 'He is finding new ways to get out,' complained India's batting coach Sanjay Bangar.
But Rahul posted an appropriate riposte to his critics, hitting a sparkling half-century in the second innings as Murali Vijay slammed a century, all but sealing their places at the top of the batting order for the Adelaide Test, which begins on Thursday, December 6.
India may have toyed with the idea of playing Rohit Sharma as an opener in case Vijay and Rahul failed in the practice game.
Kohli and Shastri are keen for Rohit to translate his limited overs success into the Test arena, hence his presence in the team they brought to Australia to give the talented batsman another chance to resurrect his Test career.
Michael Vaughan no less backed Rohit to open the innings in Adelaide. 'He is far too good not to master Test cricket,' the former England captain stated.
After Vijay and Rahul's knocks in the tour game, Rohit is unlikely to open the innings at the Adelaide Oval, but he could be an option to to bat lower down the order.
He faces a tough challenge for the No 6 slot though from Hanuma Vihari who strengthened his case with a 50 in the tour game. Vihari, who bowls off-spin, scored a 50 and took 3 wickets in the only Test he has played, against England at the Oval.
India have finished on the losing side on their last three tours to Australia.
Overall, they have never won a Test series in 11 attempts, winning only 5 out of 44 Tests Down Under.
Curator Damien Hough has promised to leave some grass on the pitch for Adelaide even though it will be a day affair unlike the three day-night Tests played at the ground the past three seasons, PTI reported on Sunday.
Hough had kept an extra layer of grass to increase the durability of the pink ball in day-night Test and he doesn't see the need for a change in the red ball Test.
'We won't do anything differently. The preparation will be the same. The only difference is we get the covers off earlier and we start earlier,' Hough told The Weekend Australian newspaper.
'The best way to get an even contest is to leave some grass on there and get that balance between bat and ball. Right now, we really feel that this is where it's at for the pitch,' Hough added.
The inaugural day-night Test at the Adelaide Oval had ended in 3 days while the second one was extended to 4 days. The third Test at the venue ended in the first session on day 5.
If the curator rolls out a green top, it could suit both the Indian and Australian fast bowlers.
It remains then to be seen what bowling combination India opts for the first Test.
Will it be 3 fast bowlers and a spinner?
The choice of spinner will be an interesting one. Kuldeep Yadav has troubled every batting line-up that has faced him in the last year or so in limited overs cricket and could be the man to pick.
But can Messrs K&S ignore Ravichandran Ashwin's experience and all-round abilities?
Former India wicket-keeper Farokh Engineer believes Kuldeep must get a place in the playing XI.
"I see him (Kuldeep) playing a role in the Tests. He could have a huge role to play and he could prove to be our trump card. Nobody in the world has been able to pick him so far, so he could prove to be an important bowler for India," Engineer told Rediff.com's last week.
The Adelaide Oval has not been a happy hunting ground for India, having never won at that venue. India has lost 8 Tests while 3 games finished in a draw.
In their last Test at Adelaide in December 2014, India were beaten by 48 runs despite Kohli hitting a century in both innings.
India's batsmen will have their task cut out against Australia's fearsome bowling line-up -- Mitchell Starc, Pat Cummins, Josh Hazlewood and Peter Siddle. So, it will be imperative to pick the best team who are capable of withstanding the pressure and delivering world performances.
Who among the fast bowlers -- Bhuvneshwar Kumar, Ishant Sharma, Jasprit Bumrah, Mohammed Shami and Umesh Yadav -- should start in the Adelaide Test?
Should India bolster its batting by including Rohit at No 6?
Should India go in with 5 bowlers including two spinners? Or should India play 4 fast bowlers and one spinner?
Should Kuldeep be picked ahead of Ashwin if India play just one spinner?
Please click the boxes below to select Your India Team for the Adelaide Test: