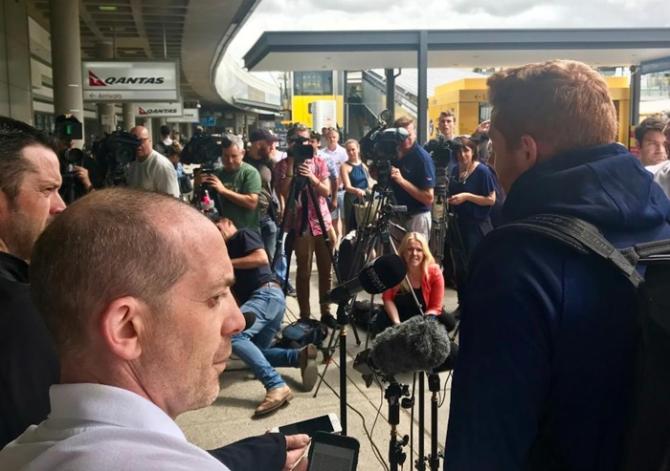 IMAGE: James Bairstow faced the cameras at Brisbane Airport. Photograph: ECB/Twitter
England wicketkeeper Jonny Bairstow said the tourists were "content, relaxed, excited" as they arrived in Brisbane on Sunday ahead of this week's opening Ashes Test.
Bairstow, a veteran of the 2013-14 tour when England were whitewashed 5-0, said he would welcome the return of suspended all-rounder Ben Stokes but was confident the squad would do England proud at the Gabba regardless.
"Content, relaxed, excited," the 28-year-old told reporters at Brisbane airport when asked to sum up the mood in the camp.
"We're ready to go, we're excited about the prospect of the first Test."
"We know that we've worked hard leading up to this Test match but it's about how we front up on the first morning of the first test at the Gabba when everyone's watching."
"(But) if you can't get up for an Ashes series, if you can't get up for England against Australia, what can you get up for?"
Vice captain Stokes has been suspended since being arrested on suspicion of causing actual bodily harm outside a Bristol nightclub in September.
A report in Britain's Daily Telegraph on Saturday said that police would make a decision over whether to charge Stokes this week, potentially leaving him clear to join the England squad before the second Test in Adelaide.
"It would be amazing if Stokesy comes out here, he's a fantastic cricketer," said Bairstow.
"We don't know what's going on there, it's completely out of our hands. We're hoping it's resolved sooner rather than later because at the end of the day we want the best cricketers playing in the Ashes."
"That's the series that we want."
The first Test starts at the Gabba on Thursday.
Lehmann calls for Australia to get behind Ashes selection
Australia coach Darren Lehmann defended the squad selection for the Ashes opener on Sunday and urged former players to back the team as they prepare to try and wrest the famous urn back from English hands.
Spin-bowling great Shane Warne was among the former players who questioned decision to include wicketkeeper Tim Paine, while the inclusion of veteran batsman Shaun Marsh also raised a few eyebrows.
Speaking in Brisbane, where the series gets underway at the Gabba on Thursday, Lehmann justified the selections and called for the whole country to support the team.
"Everyone is entitled to their opinion, aren't they?" he said.
"I'd just like all our players, ex-players, to be really positive about the Australian cricket team. Let's just get everyone from Australia behind the Australian cricket team and let's get moving forward."
Paine, who played the last of his four Tests seven years ago, was the most controversial selection mainly because he does not even keep wickets for his state Tasmania.
"We've watched him keep a fair bit," Lehmann added. "He's a high quality keeper."
"He's been in good form with the gloves, as he always has been, and he has been very good for us in the T20s."
Few players are more divisive in Australia than 34-year-old Marsh, who looks likely to fill the number six slot in the batting order on his eighth recall to the Test side.
"He's in good form, so he'll do well," Lehmann added. "He's pretty calm."
"He's grown up a lot in the last few years and played some important knocks for us. He's really confident within himself."
Lehmann said also said Australia would not be distracted by reports from England that suspended all-rounder Ben Stokes could be cleared to play a part in the series by police this week.
"We can't worry about it at the moment," Lehmann said. "For us it's more of a case of dealing with the squad they've got here."