West Indian all-rounder Andre Russell has been banned by Cricket Australia (CA) to use his black bat in the Big Bash League.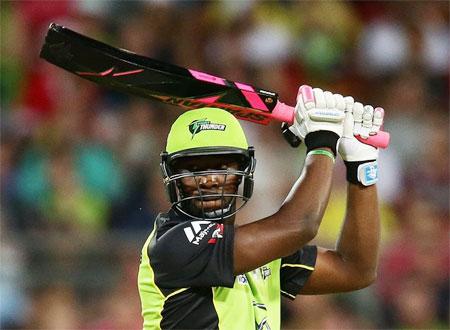 Russell, who plays for Sydney Thunder in the league, used the black bat on Tuesday against Sydney Sixers after being given approval by the country's cricket board.
Cricket Australia, at the time, had said that players could use a coloured bat subject to CA approval provided it was either black or the same colour as the team's uniform.
However, now the approval has been withdrawn after it was discovered that the bat left visible marks on the ball.
"The match officials provided feedback to Cricket Australia that the bat used by Andre left black marks on the match ball," Anthony Everard, the head of the BBL, was quoted as saying by ESPNcricinfo. "
"As a result, we have decided to withdraw our approval for Andre to use the bat that was used last night as the colour solution used by the manufacturer was discolouring the ball."
The BBL head further said that any BBL or WBBL player, who wishes to use a bat with a different colouring solution that doesn't result in the discolouration of the match ball, would be permitted to do so subject to Cricket Australia being satisfied that the bat won't compromise the integrity of the game, which according to the board discolouring the match ball does.
Image: The Sydney Thunders' Andre Russell bats with the controversial black bat during a BBL match
Photograph: BBL/Twitter