'There is no better feeling for a spinner than getting a batsman out after setting him up. That sort of planning is only possible in the longest format.'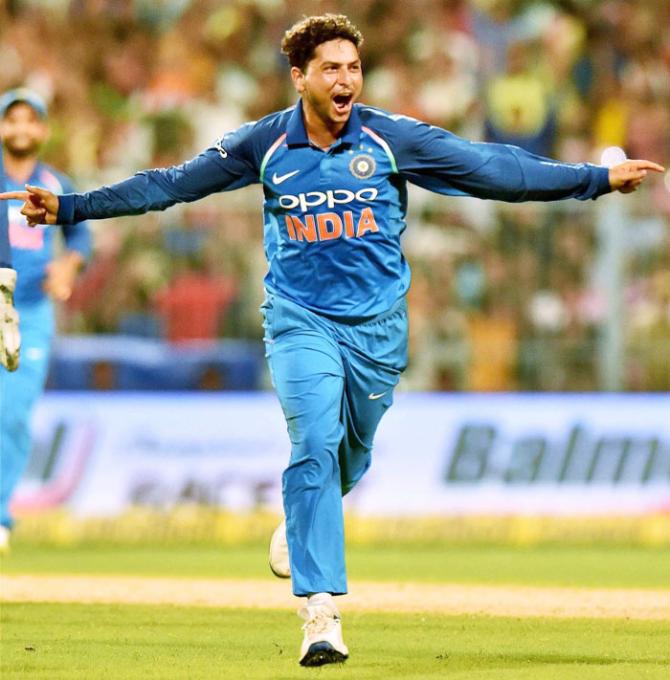 IMAGE: Kuldeep Yadav, centre, celebrates after taking a hat-trick against Australia. Photograph: Ashok Bhaumik/Reuters

He has made rapid strides in limited overs cricket over the past couple of months but for Kuldeep Yadav, the ultimate challenge is to bowl long spells consistently in the Test format.

The 22-year-old chinaman spinner from Kanpur, alongside another youngster Yuzvendra Chahal, has shouldered the Indian spin attack in back to back limited overs series against Sri Lanka and Australia not letting the team feel the absence of seasoned pros like Ravichandran Ashwin and Ravindra Jadeja.

However Test cricket remains his priority -- a format which brought him into the limelight after a successful Test debut against Australia in Dharamsala in March last year.

"The last six months have been great and I have got plenty of chances to play for India. When you are starting off, you want to play each and every game for India irrespective of format. But in the longer run, I would love to win as many Test matches as possible for my country," Yadav said on Wednesday, ahead of the limited overs New Zealand beginning on October 22.

Spin great Bishan Singh Bedi had recently said he would like judge Yadav after he has done the hard yards in Test cricket.

Yadav accepted the legendary spinner's view point with utmost humility.

"He has been a great of the game and I understand where he is coming from. Bowling long spells in first-class cricket is something I have always looked forward to. There is no better feeling for a spinner than getting a batsman out after setting him up. That sort of planning is only possible in the longest format," the young spinner said.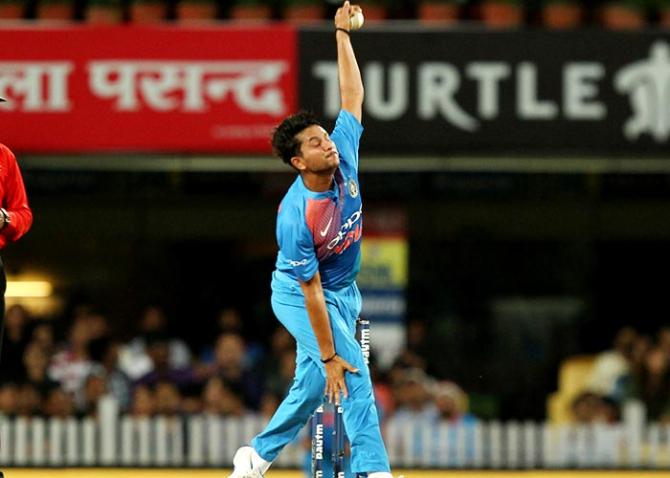 IMAGE: Kuldeep Yadav bowls. Photograph: BCCI
Yadav's strength has been his accuracy, which is fairly tough for a chinaman spinner to maintain. However, it has not always been smooth sailing for him, having being hammered on a couple
of occasions in the recently-concluded series against Australia.

After becoming the third Indian to take a hat-trick in ODIs, against Australia in Kolkata, he was smashed for 75 runs in 10 overs in the next match.

And during the T20Is series against Australia, he was taken to the cleaners by Moises Henriques and Travis Head leaking 46 runs in four overs in the second game.

"It just goes to show that every day is a new day in international cricket. Having said that, getting a hat-trick was like a dream. I never thought I could do that so early in my career," he stated.

Yadav loves bowling to the left-handers and two of his victims at the Eden Gardens were southpaws Ashton Agar and Matthew Wade before he had right-hander Pat Cummins caught behind with the wrong one to complete his hat-trick.

"I think I am more effective against the left-handers but I did enjoy getting Cummins out that day. I went for the wrong one and it worked."

Someone who has seen Yadav from close quarters is Australian Brad Hogg, who himself has praised the younger chinaman. The youngster too can't help raving about Hogg.

"He has helped me a lot (at Kolkata Knight Riders in the Indian Premier League) and he continues to do so. Even in the Australia series, where he was commentating, he always made time for me. I don't think my wrist position is as immaculate as Hogg's. I am still learning the tricks of the trade," said Yadav, adding there is still a long way to go before he can be as effective as Hogg.